Make it Monday: Pineapple Punch
Pineapple Punch Summer Drink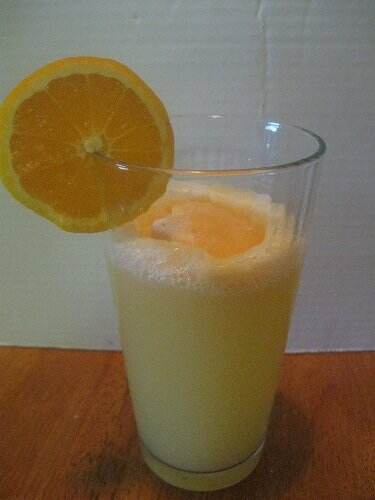 I don't know about you, but I love the punch that is often served at weddings. That, and the addicting cream cheese mints that are usually at family weddings. 😉 Even if there are other drink options, I will inevitably drink a few cups of the punch. For the longest time, the only time I got to drink it was at weddings and other parties. Then I decided I could make my own individual servings.

Now, in my experience, there are two types of this party punch. Both are made with gingerale and have scoops of sherbert floating in the bowl. But one uses Hawaiian punch and the other uses pineapple juice. I like both, but I decided since Hawaiian Punch is loaded with red food coloring, I'd better stick with the pineapple version. Yes, I know this whole concoction is far from healthy and really meant to be an occasional treat, but still, I'd rather stay away from the red food coloring. Besides, it gives DH a headache.
The standard punch bowl version uses gingerale, but I opted for Sprite instead. You can, of course, stick with the gingerale if you like! To make two tall (24 oz) glasses full, you'll need:
1 12 oz can Sprite or Gingerale
1 6 oz can pineapple juice
sherbert flavor of your choice–I prefer orange
Pour half of the soda in each glass, followed by half of the pineapple juice in each glass. Scoop in about 1/4 cup or so of sherbert. Let the glass sit about 5-10 minutes to give the sherbert a little time to melt, then use a straw to stir it all up.
Sooo good and refreshing. And perfect for a hot summer day!
Take a second to retweet this status if you like the recipe!
Need something cool and refreshing to #drink? Check out this yummy pineapple punch! http://t.co/YyRULdqdUc pic.twitter.com/QJJdL66pEN

— Ordinary Housewife (@AOHousewife) June 10, 2014