Tasty Tuesday: Cream Cheese Chocolate Pie
Chocolate Cream Cheese Dessert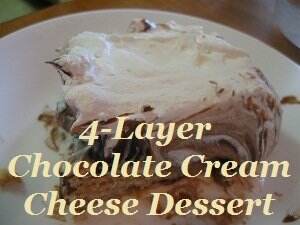 I've got a dessert recipe today! It is a delicious chocolate cream cheese dessert. This is a dessert my grandmother used to make and it had been a long time since I'd had it, but I decided to make it for my dad when my parents came to visit recently. We used to call it "4 layered dessert," but since that name might be confusing to some, I'll rename it "Cream Cheese Chocolate Pie."
     To make this fairly simple but delicious dessert, you will need the following:
1 cups flour
1/2 stick (1/4 cup) butter (softened)
1/2 cup brown sugar
8 oz package cream cheese (softened)
1 cup powdered sugar
1 tsp vanilla extract
6 oz chocolate instant pudding mix
3 cups milk
8 oz container whipped topping (like Cool Whip)
     Layer 1: Mix together the flour, brown sugar and butter. If you have a pastry blender, great. I don't, so I find the most effective way is to crumble and mix with my hands. Spread and pack down the flour mixture in a greased 9×13 pan. Bake it in a 350 degree oven about 10 minutes and allow to cool thoroughly. 
     Layer 2: Beat together the cream cheese, vanilla and powdered sugar. Then mix in 1 cup of the whipped topping. Do not overbeat, or it will "defluff." Just mix it enough to fully incorporate it. Spread the mixture evenly over the pie crust. 
     Layer 3: Prepare the pudding mix with the 3 cups milk. Allow to set about 5-10 minutes, according to package directions. Spread the pudding evenly over the cream cheese mixture.
     Layer4: With a spatula, spread the rest of the whipped topping over the pudding.
     Refrigerate dessert at least an hour and until ready to serve. Makes a great potluck dessert!
This post has been linked up at one or more linkies. To see all the linkies I've participated in, check out my link party page!