Wellness Wednesday: Love My FitBit Zip
*I recieved a FitBit Zip for evaluation purposes. All
opinions expressed are my own and may differ from yours.*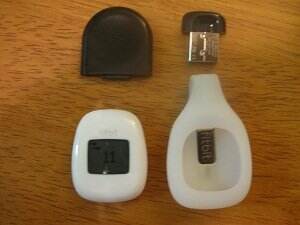 Ok moms. You know how hard it is to get a workout in. Especially if you have little ones at home all day, or homeschool. You may get so overwhelmed and tired that you feel like you've gotten plenty exercise when you might not have.
     A good target number of daily steps is 10,000. 5,000 is ok, but 10,000 is ideal. The best way to keep track is with a good pedometer, such as the FitBit Zip. I have found that when I take an hour long walk, I usually meet my 10,000 step goal. The 5,000 step goal can be met by taking a trip to the grocery store.
     What makes the FitBit different from other pedometers I've tried is that you can wirelessly connect it to your computer or smartphone and you can check on your stats. It even measures intensity. You put the FitBit into its holder clip and clip it on your pocket or even on a necklace in your shirt. It will still read your steps if it is covered up, unlike other pedometers I've tried. And as long as the USB is plugged in, it will read your FitBit whenever they are within 20 feet of one another!
     Here is what the dashboard looks like. You ca see how many steps you've taken today, how many calories burned, how many miles walked and how many minutes you were extra active.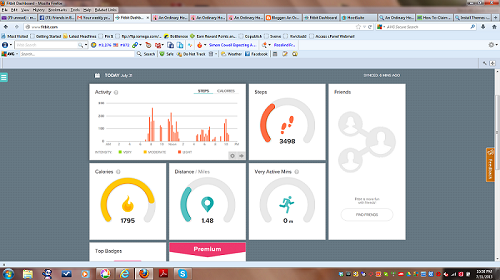 Besides your dashboard, you can go to your log. Here you can log your foods–it's amazing what a difference logging your food makes–and your water intake. You can also add extra activites (like swimming) where you don't have the FitBit on, and your weight. There is also a sleep log, but this is for people who have the FitBit Flex or FitBit One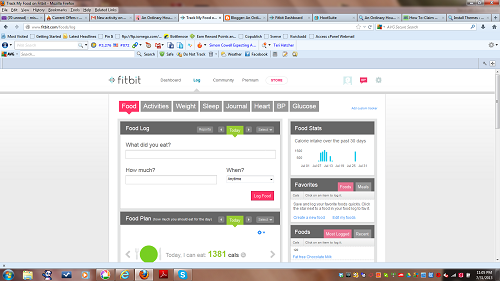 The FitBit Zip is a great tool to help you stay motivated on your fitness journey! It takes a little time and thought to log your info, but not too much. And definitely a great habit to be in! If you have a smartphone, it's even easier for you to keep your log. If you would like to check out FitBit, you can visit the FitBit website!
I received one or more of the products mentioned above for free for
evaluation purposes. However, all opinions expressed are still 100% my own. I
am disclosing this in accordance with the Federal Trade Commissions 16, CFR
part 255 Guides Concerning the Use of Endorsements and Testimonials in
Advertising. Please see my full disclosure policy HERE.