Festive Friday: Chocolate Creme Eggs
Chocolate Cream Eggs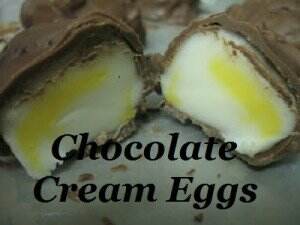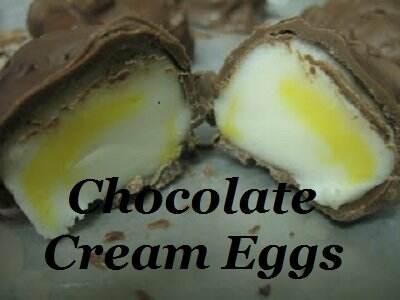 Yep, that's right. You heard me. Chocolate Creme Eggs. Think Cadbury. 😉 Now, while I can't say these taste exactly like Cadbury's (though DH claims they do) I can tell you they are pretty good! And you can make these pretty much any time of the year which it awesome. So if you want chocolate creme hearts, Christmas trees, pumpkins, whatever, you can make up a batch.
     I got the ingredient list here, but couldn't find instructions there. Though I can tell they used egg-shaped candy molds instead of the dipping method I used, and the eggs look prettier than mine. But I could not, for the life of me, find egg-shaped candy molds at Hobby Lobby or Michaels last week. So I had to stick with dipping method. 🙁 If I ever get some, maybe I will update.
     So, here are the ingredients you will need:
     1/2 cup light corn syrup
     1/4 cup butter, room temperature
     3 cups powdered sugar, sifted
     1 tsp vanilla
     1/4 teaspoon salt
     yellow food coloring
     1 12 ounce bag milk chocolate chips

      First, mix all the ingredients except the chocolate. You will get a nice, sticky, fondant. Take out about 1/4-1/3 of the fondant and mix in a couple drop yellow food coloring. Stick the fondant mixture in the refrigerator 30 minutes to an hour.
     Remove the yellow fondant and make small yellow balls, about the size of marbles. Place them on wax paper on a tray. Take out the white fondant and make flat disks large enough to wrap around the balls.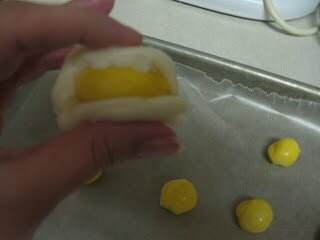 Wrap the white completely around the yellow so the yellow is encased in the white. Gently press it into the form of an egg.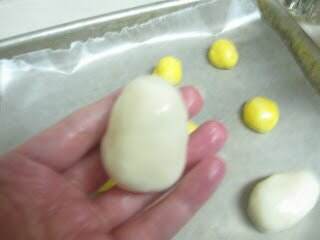 The fondant gets soft fast, so you might wand to do the eggs a few at a time and return the fondant to the refrigerator. Stick them in the freezer a few minutes until they are ready for dipping. 
     Meanwhile, melt the chocolate chips by microwaving 10 seconds at a time with 2 tsp shortening. Otherwise you can do it on the stove over low heat. Dip the "eggs" in the chocolate, making sure they are completely covered. Return them to the wax paper to firm up.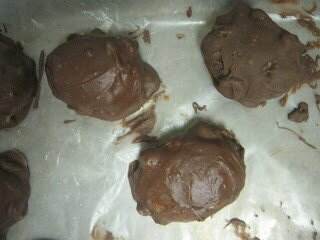 If you happen to have egg-shaped candy molds, you can make the hollow eggs shells and put the fondant egg whites in them, then "weld" the halves together by brushing a bit of melted chocolate along the edges. 
     Or you can forget the whole egg thing and use the center for another shape. It's easier to leave the fondant all white anyway. 😉 
     Do you have any homemade Easter treats you like to make?