Tasty Tuesday: Chocolate Chip Pizza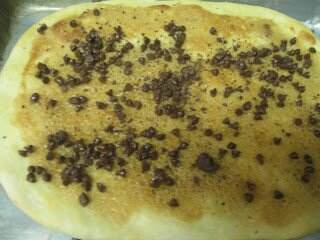 Update: Check out my new and improved chocolate chip pizza!
     So today I thought I would post my recipe for chocolate chip pizza. Yep, you heard me right. Chocolate chip pizza. If you have ever been to Double Dave's, this was an attempt to imitate their chocolate chip pizza. If not, you should still give it a try. 😉 
     After a couple different tries, this is the closest I've been able to come so far. First of all, you'll want to make a pizza crust. If you don't want to make a crust, you can get a premade one, or get Rhodes frozen loaves and do the quick-thaw method. 

1/4 cup (1/2 stick) melted butter 
     1 TBSP white sugar
     1 TBSP brown sugar
     3 TBSP flour
     2-3 TBSP mini chocolate chips

Mix together the butter, sugars and flour. It will make a runny mixture. Spread the mixture all over the pizza dough, just like you would pizza sauce. 
     Bake at 450 degrees, about 10 minutes. As soon as you remove the pizza from the oven, sprinkle the mini chocolate chips all over the pizza and allow to sit for a few minutes. They will melt slightly.
     Enjoy!