Tasty Tuesday: New and Improved Chocolate Chip Pizza
Chocolate Chip Pizza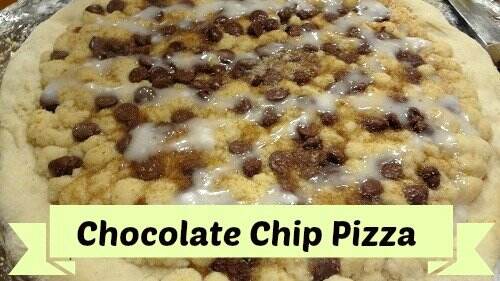 You may have checked out the chocolate chip pizza recipe I previously posted. While that one is good, I like this newer one I created a little better. Actually way better. It's been a while since I've had Double Daves chocolate chip pizza, so I couldn't tell you if this is any closer than the other recipe, but it's good! In fact, amazing (say all my friends/relatives who've tried it!) 
Make your pizza dough first, unless you choose to use a premade one. Then preheat oven to 450 degrees, spread out the pizza dough about 10-12 inches a prebake about 5 minutes. You do not want to completely bake the crust at this time. 
Meanwhile, make the chocolate chip dough, which actually turns out to be sort of like a crumbly sugar cookie dough.

For the cookie dough you'll need:
1 stick (1/2 cup) melted butter
1/2 tsp vanilla
1 cup sugar
1 1/4  cup flour
2 tsp baking powder
1/2 tsp salt
1/4-1/3 cup chocolate chips (regular or mini)
2 TBSP granulated sugar
2 TBSP brown sugar
Mix together the cup of sugar, flour, baking powder and salt, then add the melted butter and vanilla. It will be crumbly.  Sprinkle the batter on the pizza dough and press down to pack it. Sprinkle the chocolate chips on top and press into the cookie dough. Mix together the 2 TBSP brown sugar and 2 TBSP granulated sugar and sprinkle evenly on top. Don't miss a spot–this is important for texture!

Return the pizza to the oven and bake another 7-10 minutes at 450 degrees, until the cookie dough is baked and a light golden brown.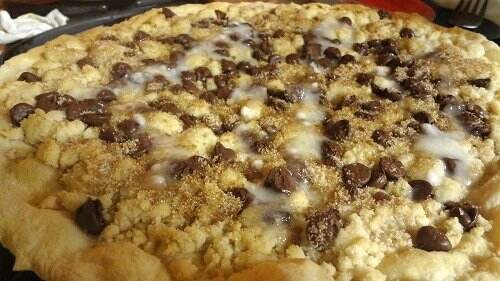 If you want to be fancy, you can make an icing of 1 TBSP milk and 1/2 cup powdered sugar, put it in a decorator bag (or ziploc with the corner snipped off) and drizzle on top of the finished pizza.
This chocolate chip pizza is as good as any restaurant dessert pizza!
Want a non-chocolate dessert pizza? Try my strawberry cheesecake pizza!