Tasty Tuesday: Strawberry Cheesecake Pizza
Strawberry Cheesecake Pizza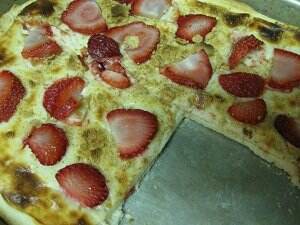 Well, you may know I like to experiment with dessert pizzas. This strawberry cheesecake pizza turned out pretty well, if I say so myself. I actually made this one 2 Fridays ago, but I lost my camera with the pics on it. But not to worry, I found it and now I can share it. 🙂 

     So, what do you need for this yummy concoction?  
    Pizza crust
     4 oz (1/2 pkg)  cream cheese, softened at room temp.
     1/2 cup powdered sugar
     1/2 tsp vanilla extract 
     about 8 strawberries, sliced
     1 Graham cracker sheet, crushed into crumbs

Beat together the cream cheese, sugar and vanilla. By the way, this makes an awesome easy cheesecake filling. Just double the recipe and add to a graham cracker crust. But I digress. 🙂 
     Spread the cheesecake filling on the (spread out) pizza dough, add the strawberry slices (like you would pepperoni) and sprinkle the graham cracker crumbs on top. 
     Bake at 450 degrees about 1o minutes, or until the crust starts to brown. Slice and enjoy!