Make it Monday: DIY Almond Milk
Make Your Own Almond Milk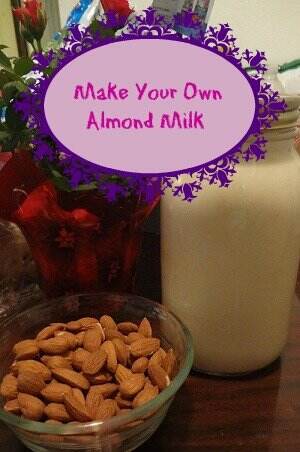 Did you know you can make your own almond milk? Of course, you can make your own anything if you have the materials and know how to do it. I can't say this is necessarily cheaper than just buying a container of almond milk, but if you like the thrill of doing on your own, as well as knowing it's about as fresh as you can get, it might be worth a try.
I got a nut milk bag from Everyday Kitchen Essentials to review. I find it easier to use and handle than cheesecloth when making nut milk.
So, here is how I make almond milk, using the Everyday Kitchen Essentials nut bag.
     First, soak a cup of raw almonds in 2 1/2 cups water. At the very least, soak 2 hours, but it's best to do more, even overnight. Cover it up so nothing nasty floats in while you're not looking.

     After you've soaked your almonds, strain them and dump them into a blender. Add 4 cups of water and blend about 5 minutes. I also add a couple teaspoons of vanilla and tablespoons of honey as well. Keep blending the full five minutes, even though it will seem like it's all liquidy before that. It may seem like a long time, but do it anyway. 😉

Dump the almond mixture into a bowl or pitcher fitted with the nut bag and strain the liquid. Lift the nut bag out of the pitcher and squeeze, getting as much excess liquid as possible out.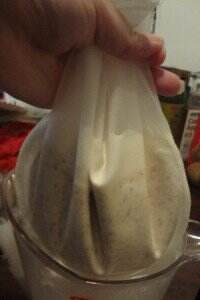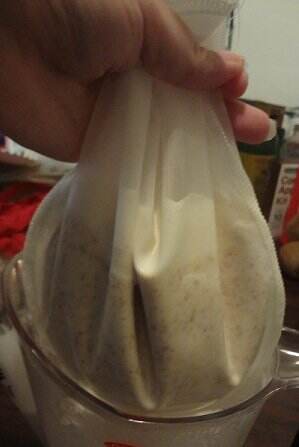 Don't discard those solids! Allow it to dry and grind it into almond meal.
     Pour your fresh almond milk into a container for keeping, or use it right away. Makes a quart of almond milk. You can obviously double the recipe to make more. This is not sweetened of course. You will have to do that yourself. 🙂
     Let me know what you think! Do you use almond milk?
I received one or more of the products mentioned above for free using Tomoson.com. Regardless, I only recommend products or services I use personally and believe will be good for my readers.