Tasty Tuesday: No Churn Chocolate Chip Cookie Dough Ice Cream
No Churn Chocolate Chip Cookie Dough Ice Cream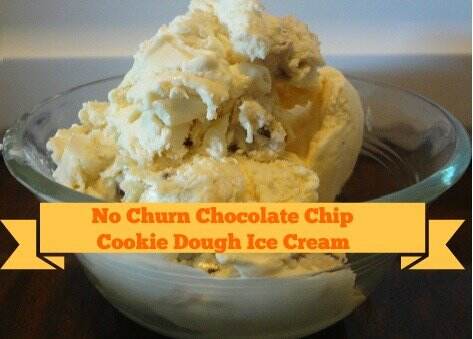 I made chocolate chip cookie dough ice cream last week and let me tell you, it's delish! And the best part is, it didn't require any churning! This ice cream recipe is even easier than the no churn ice cream recipe I previously posted, but this one uses sweetened condensed milk and is super rich, so…don't over do it!
First of all you need to make the cookie dough. For this you will need:
1 stick (1/2 cup) butter, softened
1/4 cup sugar
6 TBSP brown sugar
1/2 tsp vanilla
1/4 cup water
1 cup flour
1/2 tsp salt
1/2 cup mini chocolate chips
Mix together the butter and sugars, ad the vanilla and water, then the salt and flour. Finally, mix in the chocolate chips. This makes a yummy edible, egg free cookie dough on its own too!
Lay a piece of wax paper on a cookie sheet and place teaspoon sized dollops of cookie dough on the wax paper. Put the cookie sheet in the freezer and freeze them about an hour. You can cut them in half more easily once frozen.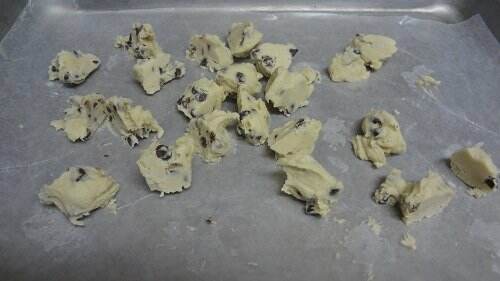 Meanwhile, make the ice cream. If you'd rather have plain vanilla, you can just leave out the cookie dough. To make the ice cream you need:
2 cups whipping cream
14 oz can sweetened condensed milk
1 tsp vanilla
Beat the whipping cream until stiff peaks start to form, 5-7 minutes, then add the vanilla and sweetened condensed milk. Finally, add the frozen cookie dough bits and put the ice cream into a container. I prefer to use a storage container with a lid.
Freeze at least 8 hours or overnight.
My ice cream turned out creamy and delicious. DH was not around when I was making it, but later that night I saw him get the container out, not even knowing what it was. But he knew it was probably something good. He loves my blogging experiments. 😉 Anyway, he took a bite and his eyes got wide when he realized there were chunks of chocolate chip cookie dough in it.
Needless to say, he approves.
You can adapt this recipe for all kinds of flavor combinations.
What's your favorite flavor of ice cream?
This post has been linked up at one or more linkies. To see all the linkies I've participated in, check out my link party page!