Tasty Tuesday: Crispy Cheddar Chicken
Crispy Cheddar Chicken Recipe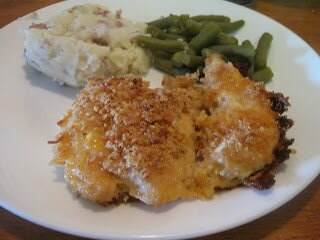 Here is a recipe for Crispy Cheddar Chicken, and it's delicious. I only cook for myself, my husband and my toddler, so I halved the actual recipe, since this sort of thing is best fresh out of the oven.
     To make the amount I did, you'll need:
     2 boneless, skinless chicken breasts (I actually used tenderloin, since that's what I had)
     1 "sleeve" Ritz crackers
     1/4 cup milk
     1 1/2 cups grated cheddar
     *I will omit the salt in the original recipe next time, because it was a little too salty. The cheese and crackers add enough salt.
     First, cut the chicken breasts into 3rds. I didn't need to do this since I was using tenderloin.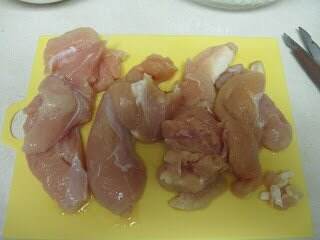 Grind the crackers into crumbs with a chopper/food processor and make 3 bowls with the milk, cheese and cracker crumbs.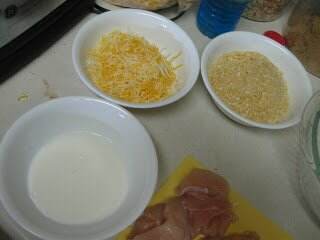 Dip a chicken piece into the milk, then the cheese. Press the cheese into the breast. Some will still fall off.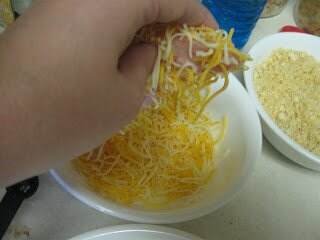 Then cover the breast with crumbs, pressing them into the cheese covered chicken.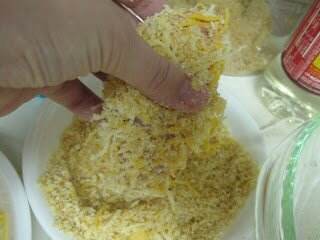 Then put the chicken into a greased baking dish. Repeat with the other chicken pieces. It's ok if it's all packed together. If you have any leftover cheese and crumbs, you can sprinkle it on top, or discard, depending on how cheesy/breaded you like it.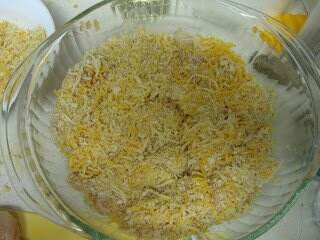 Cover the pan with tin foil and bake at 400 degrees for 35 minutes. Then remove the foil and cook for an additional 10 minutes, or until the edges are brown and crispy.
     There is an optional sauce that I didn't actually make, since I had mo cream of chicken. But to make it you stir together on a can of cream of chicken, 2 TBSP sour cream and 2 TBSP butter on the stove on medium-high heat until hot. You would probably halve it if making half a recipe of chicken. I thought the chicken was great on it's own, though. Try it youself and let me know what you think!