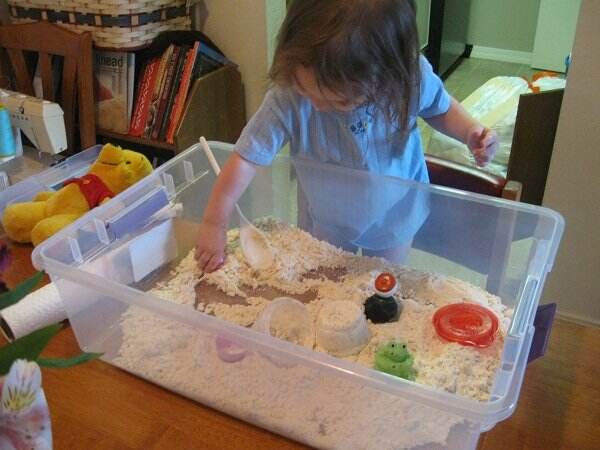 Here is a great idea for little ones. Especially if you live in an apartment like me and don't have a yard and/or a real sandbox. It's great for indoor play during the winter, too!
All you need is all-purpose flour, vegetable (or corn, baby or canola) oil and a bin to store it in.
First, you will want to mix 4 cups flour with 1/2 cup oil. That is actually a two batches pictured above, mixed one batch at a time.

Once it is is all incorporated, put mixture in a shallow bin and have fun! Add toys and small containers and spoons for sand-play. This "sand" is the perfect texture for play. You can use containers to mold it, but it crumbles with light pressure–just like real sand. Just make sure to put a towel underneath to control messes! When done, store away until next time!

This post has been linked up at one or more linkies. To see all the linkies I've participated in, check out my link party page!