Tasty Tuesday: Awesome Chicken Sandwiches
Fried Chicken Sandwich Recipe
     Here is a really good recipe for fried chicken sandwiches. I adapted it from a recipe that is supposed to be similar to Chick fil A. I'm not going to claim these taste exactly the same, but they are pretty good! I mean, come on! Just look at the pic. 😉
     Ingredients (for four):
     2 boneless, skinless chicken breasts
     1 egg
     1/2 cup milk
     1 cup flour
     2 1/2 TBSP powdered sugar (who'da thought, right?)
     1/2 tsp salt
     1/2 tsp pepper
     1 tsp paprika
     1/8 tsp cayenne pepper
     oil for frying
     4 hamburger buns
     First thing to do is heat oil in a skillet on medium high heat. Cast iron is great. Amount of oil depends on the size of the skillet. You want it to some up about half an inch in the pan, so maybe a cup? The oil needs to be hot maybe about 10-15 minutes. You can cut your chicken while it's heating up.
     You want to butterfly your chicken breast, trim the fat. If you feel they will be too long for your buns, you can trim a little off the ends and a get few extra nuggets. 🙂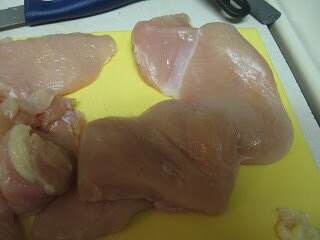 Combine milk and egg in one bowl, and in another, combine flour, sugar, salt, pepper, paprika and cayenne. Dip chicken in the flour mixture, then the egg mixture, allowing excess to drip off, then dip it in the flour mixture again. Then transfer to the oil. Use tongs to keep from getting "popped" with the grease.
     Fry until golden brown (about 5-7 minutes each side). Put on a paper towel to soak up some of the oil.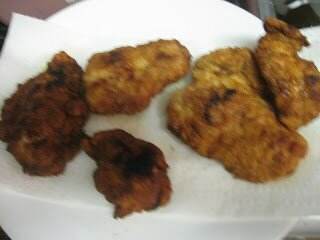 As you're getting close to the end of the chicken cooking time, heat up another skillet with a little butter. Place hamburger buns, white part down, into the buttered skillet and leave a minute or two, until they are slightly toasted.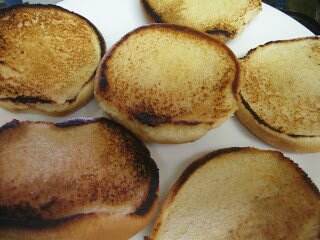 Then add the chicken to your buns! I'm not a pickle person, but feel free to add pickle slices, ketchup, mayo, or whatever!
     Enjoy!