Weight Loss Wednesday: Chia Seeds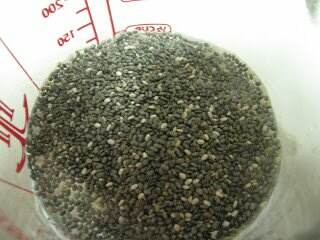 Have you heard of chia seeds? If you have are trying to lose weight or even just balance your metabolism, chia seeds are a great addition to your diet. They are packed with nutrients and absorb nine times their mass of liquids, so they are a great filler!
     You can eat the seeds straight and dry, or you can soak them in a liquid (say, juice or chocolate milk). 1 TBSP of seed soaked in 1/2 cup liquid for 10-15 minutes will create a gel. If you make the chia gel with water, you can use it as an egg substitute in recipes. I've done this before. I didn't have the 4 eggs the recipe called for, so I used a cup of chia gel. The recipe turned out great! The seeds don't have much of a taste, so it is easily drowned out by other flavors. The texture may take getting used too. It's kind of like tapioca. Also, it looks kinda gross when is plain water gel. Kind of like fish spawn. See?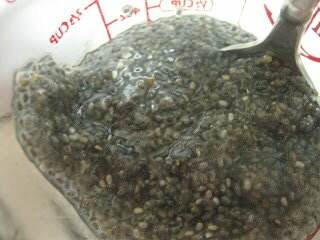 I find that when I start my day with a couple TBSP of chia seed, my appetite is somewhat suppressed and I might eat just a small lunch (like half a sandwich or small salad) then I can eat a "real" meal for dinner without taking in a lot of extra daily calories. And they have lots of nutrients your body needs. Here is the nutrition info on my package, per TBSP: 
     Fat-4g (this is "good" fat, Omega 3 and 6)
     You can incorporate it into your diet in a variety of ways. You can put it in smoothies, if that's your thing. Mix it with flavored milk to make "pudding." I've even eaten in cereal. Make sure you eat it quickly, before it gels. That would be too gross, I think. Put it in oatmeal or yogurt and wait a few minute so they can absorb some moisture. Then they aren't so crunchy–more chewy.
     I feel like chia seeds have really helped me, so if you need something to suppress your appetite naturally, you might give these a try! 
*I am not a nutritionist or medical professional, nor do I claim to be. I am not an authority for medical advice. I am simply sharing my own thoughts and experiences with this product.*