Garlic Gold Review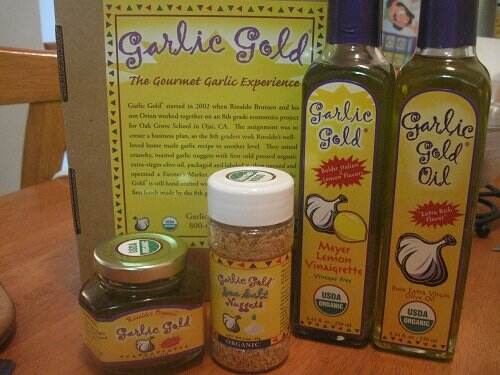 Garlic and olive oil are two staples in many Italian food recipes. So when you take USDA certified organic Olive Oil and infuse it with the flavor of garlic, what do you get? Why, Garlic Gold, of course!
Garlic Gold manufactures their products in a certified organic kitchen in Ventura, CA and their products are created by hand. Garlic Gold sent me their Garlic Gold gift box, and though I am a big fan of olive oil and garlic, I have not had anything quite like their garlic infused olive oil.
There were four products in the gift box and I managed to find uses for all of them. The original Garlic Gold contains olive oil and Garlic Gold nuggets and I knew right away what I wanted to use it for!
Have you ever been to an Italian restaurant where they bring you bread and a dip of olive oil, dried garlic and herbs? Garlic Gold makes it easy to replicate that at home. I poured some Garlic Gold into a saucer and sprinkled a bit of basil and oregano on top. It makes a delicious dip for a loaf of fresh bread, served with pasta!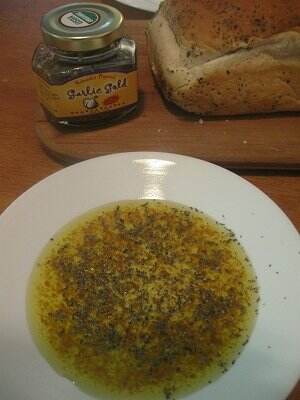 I used the Garlic Gold oil to saute some chicken for fettuccine Alfredo and I used the garlic nuggets in my Parmesan white sauce to go on top! The Garlic Gold Meyer Lemon Vinaigrette (olive oil, lemon juice and herbs/spices) got tossed in with some angel hair pasta, sauteed chicken, squash and broccoli.
 All-in-all, I feel like the Garlic Gold gift set is a great starter for getting exposed to their products, especially if you are a fan of pasta dishes! They also have 3 varieties of Garlic Gold vinaigrettes and several varieties of gold nuggets. Their website has a recipe section for even more great uses!
Check out Garlic Gold today and see what you can do with it!
website * facebook * twitter * pinterest
Want to help spread the word? Take just one second to retweet!
Have you heard of @GarlicGold? It's great if you like making dishes with garlic and olive oil! http://t.co/er8QppzZOq pic.twitter.com/2t9cHLlxgJ

— Ordinary Housewife (@AOHousewife) June 3, 2014