Tasty Tuesday: Greek Oven Fries
Baked Fries with Garlic and Feta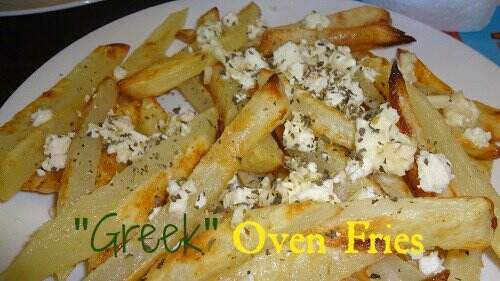 This is a delicious variety of fries inspired by the ones at a local burger restaurant and maybe a little healthier since they're baked instead of deep fried. In the past I've not had much success with fries made in the oven, but this time I tried the tips suggested by another blogger in her baked sweet potato fries recipe.
The tricks I used were soaking the fries ahead of time, coating them in corn starch and using parchment paper. Now I can say I'm pretty happy with my oven fries!
To make these you'll need:
2 large russet (baking) potatoes
1 TBSP corn starch
2 TBSP olive oil
1/2 tsp garlic powder
1/ 2 tsp salt
1/4 cup crumbled feta cheese
2 large cloves of garlic, diced very fine
1/2 tsp McCormick Greek seasoning
First peel and cut the potatoes into fries. Keep in mind they will swell just a bit when they are soaked and thinner is better with oven fries. Put the fries in a bowl, cover with water and allow to sit for at least 2 hours.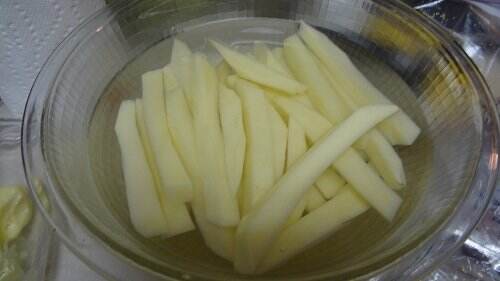 After 2 hours, drain the fries and lay them out on a clean dry towel. Cover with another towel to get them completely dry. Meanwhile, line a large baking sheet with parchment paper and preheat the oven to 425 degrees.
In a larger, dry bowl, coat the potatoes with corn starch. I just dry out the bowl I had them soaking in. After the potatoes are thoroughly coated, add the olive oil, garlic powder and salt. Toss and coat the potatoes with the oil and seasoning. Then lay them out in a single layered on the parchment paper.
Bake the fries 15 minutes, take them out and turn them and bake 15 more minutes. They should start getting crispy by this point. While the fries are in the oven, dice the garlic cloves as small as you can and mix in with the crumbled feta.
When you pull the fries out, put the feta/garlic in the microwave 10-15 seconds. Watch it–you don't want it completely melted. Put the fries in a dish and sprinkle the feta mixture in little dollops all over the fries. Sprinkle the Greek seasoning on top.
Eat 'em while they're hot! That's the best way!
How do you like your baked fries?