Tasty Tuesday: Grain Free Chocolate Chip Cookies
 Gluten Free, Grain Free Chocolate Chip Cookies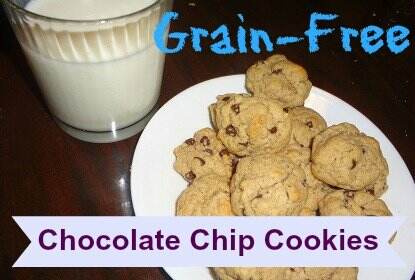 Well, I made grain free chocolate chip cookies and I have to say they are really quite decent! I really just altered the ingredients in the flourless peanut butter cookies I posted a while back and used almond butter, because almond butter has a more neutral taste than peanut butter.
I used the homemade almond butter I made recently and less sugar than I could have. I figured the chocolate chips would give the cookies some sweetness, so I used less sugar. They were not very sweet, but just sweet enough to be passable. I may try a little more sugar next time, just to see what kind of difference it makes.
1 cup almond butter
1/4-1/2 cup brown sugar (I used 1/4 this time around)
1 egg
1/4 tsp vanilla extract or vanilla bean paste
3/4 tsp baking powder
1/4 mini chocolate chips
Mix together all the ingredients. While the oven preheats to 350 degrees, line a large sheet with parchment paper. Place heaping teaspoons of the batter about an inch apart.
Bake the cookies for 8-10 minutes, until the edges start to brown slightly. You don't want to cook them much longer than this, or you will burn the bottoms. Take the cookies out of the oven and allow them to sit on the tray 5 minutes before removing them to a cooling rack.
These cookies will be slightly on the smaller side, but still good! If you try to make them bigger, you may not like the result, so I recommend sticking to the instructions! 
You could probably use honey, maple syrup or xylitol instead of sugar, but I have not tried it with those. These are a little healthier than regular chocolate chip cookies, but they still contain fat from the nuts, as well as sugar, so don't overdo it!
Try them and let me know what you think!