Make it Monday: Homemade Toothpaste
How to Make Homemade Toothpaste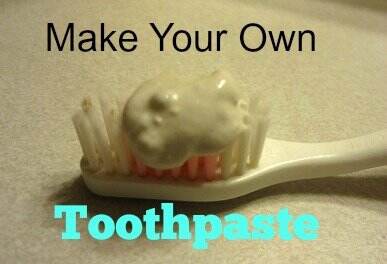 I have been making my own homemade toothpaste lately. After adjusting the ratios of the ingredients, I finally found the combination I like best and it makes a nice, not too runny paste. It's almost as thick as regular toothpaste.
The thickness will change a bit with room temperature because the coconut oil has a melting point of 76 degrees and our house can be anywhere between 70 to 78 degrees. One batch I made was so thick in the bathroom temperature that I had to run it under hot water to loosen it. So, I mix my toothpaste while the coconut oil is in a liquid state.
Each of the ingredients in the toothpaste has a purpose. The lauric acid in coconut oil is naturally antimicrobial. The tea tree and peppermint oil also have antibacterial properties. Calium powder helps build up, well, calcium.
Baking soda works as a mild abrasive, scrubbing stains off the teeth. However, because of its abrasive nature, it makes up only a small part of this recipe, as too much could damage your enamel. More info on that here.
The xylitol serves a two-fold purpose. Xylitol prevents harmful bacteria from sticking to the teeth and also serves as a natural, non cavity causing sweetener for your toothpaste.
Homemade Toothpaste Recipe
1/4 cup plus 2 TBSP calcium powder
2 TBSP xylitol
1 1/2 TBSP baking soda
3 TBSP coconut oil
3/4 tsp peppermint oil
1/4 tsp tea tree oil
I also like to add 1 tsp of (affiliate link>>) Trace Minerals, but it's not essential.
 Mix everything but the calcium powder and when everything is well blended, incorporate the calcium powder, one tablespoon at a time. By the the time you are done, you should have a nice paste. 
You can store it in a jar or, as I prefer, put it in a reusable food pouch to make it a less messy squeeze toothpaste. Use as you normally would use toothpaste.
Have you ever tried making homemade toothpaste?