Tasty Tuesday: Stuffed Peppers
Stuffed Peppers Recipe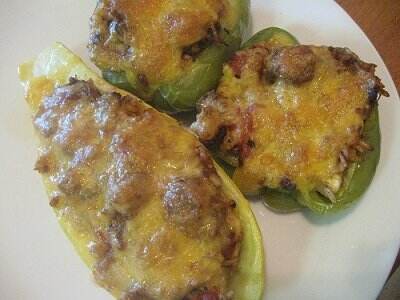 I'll be the first to admit I'm not a fan of peppers. I actually hate peppers on my pizza, though my husband likes them. I think it's the crunch more than anything, though I don't care too much for the taste. But that's just me.
I know, this is a funny way to start out a post with a stuffed pepper recipe. But I said all that to say when I make stuffed peppers using this recipe, it is actually fairly good. And that's a lot coming from me. The peppers are not too crunchy this way though.
Alternatively, if you really don't like the peppers or have kids who don't want them, you can use hollowed out zucchini or yellow squash instead. The flavor of those veggies blends really well with the other ingredients in the recipe.
Stuffed Peppers
4 bell peppers, halved lengthways and hollowed out
1 lb ground beef (or ground turkey or sausage)
1 cup cooked rice (or quinoa)
15 oz can diced tomatoes
4 tsp paprika
2 cups shredded cheddar (or other cheese of choice)
2 TBSP olive oil
First, cook the ground beef and rice. I love my rice cooker for the rice. Rub the bell pepper halves with olive oil and place them face down on a baking sheet. Put them in the oven and roast at 350 degrees for ten minutes.
Meanwhile, mix in with the beef the rice, tomatoes and paprika until thoroughly mixed and heated.
Pull the peppers out of the oven and with a fork turn them face up. Spoon the meat/rice mixture into the peppers and top with cheese.
Cover with foil and bake another 10 minutes, them remove the foil. Cook another 10 minutes. The pepers should be nice and tender by now. If you prefer them crunchier, skip the foil and only cook the peppers 10 minutes, until the cheese is starting to brown.
That's it! It's really a meal by itself, but you can serve it with a salad if you want to add more veggies.
How do you like your stuffed peppers?