9 Things you Can Do Today to Start a Blog
How to Start a Blog: The Basics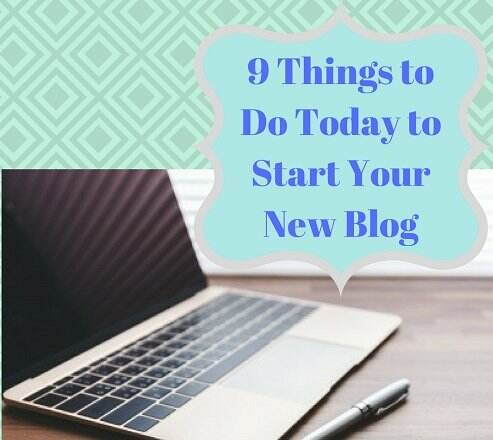 Image courtesy of everydayplus at FreeDigitalPhotos.net
Ok, I'm finally doing it. I'm finally jumping on the "how to start a blog" bandwagon. Not because I'm an expert, because I most certainly am not. But I've had enough people ask where to start that I feel like I just need to write a somewhat coherent post about the very basics so I can just direct them (you) here instead of sharing the same info over and over, and possibly forgetting to mention something important.
Before I continue, I'd like to emphasize this is not a comprehensive post about growing your blog. There are many great resources for that once you get started. Blogelina and Inspired Bloggers University are two I would recommend if you'd like "further education." Yes, they do have some paid courses, but they also have a lot of free valuable information on their website and in their newsletters.
1.Select a topic. Is there something you have a lot of experience in or feel you're really good at? Maybe you have a lot of great recipes to share. Maybe you are really good at frugal living and have a lot of money saving tips. If you have a child with special needs, maybe you can share wisdom with other moms in the same situation. Whatever you decide to write about, it needs to be something you feel you can write about for a long term. And if you want followers, you must offer something to your readers (helpful advice, life hacks, etc).
2. Choose a name. Try to think of something catchy that relates to your niche or target audience. Do a quick Google (or Swagbucks) search on the name you're considering to see if someone else is using it. You don't want to run into any legal issues for copyright infringement down the road. Yes, it happens. No, it's not very likely. As long as you don't appear to be clearly copying someone's name and content, you should be fine.
3. Decide on your hosting. You can start a blog for free on Blogspot. It's pretty easy to do. Here's the thing though. Unless you purchase your domain, your web address will be yourblogname.blogspot.com. If you're wanting to be professional and work with brands, a blogspot address isn't necessarily that professional looking, and will turn potential sponsors off. Additionally, because your blog is hosted by Google, Google technically owns your blog content. And they could also shut your blog down without notice if they don't like what you're writing (that doesn't happen often, but it does happen). Personally, I find that disturbing. And that was the nudge I needed to get a self-hosted blog.
Which brings me to the other hosting option–self-hosted wordpress blog. This is the option pretty much all veteran bloggers will recommend. The wordpress blog itself is free, but you must purchase a domain name and pay for hosting. The thought of paying for hosting put me off for some time, so it took me awhile to take the plunge. But now that I have, I prefer wordpress because there are many plugins to make things easier for you. Plus my content is mine. If you do decide to go with Blogger, you can skip the next 3 steps.
4. Register your domain. If you choose self-hosted wordpress, you will need to register your domain. Your domain is your web address. Mine is anordinaryhousewife.com. While you can register your domain with your hosting service, it is better to register it separately, in case you ever do change hosting. I currently have mine registered at Namecheap, because it was recommended by bloggers more experienced than me. Namecheap offers hosting as well, but their plans start at a higher price than Siteground.
5. Purchase hosting. That is, if you're doing self-hosted. The web hosting I use is Siteground. Plans start at a year and come out to about $4/mo, which is pretty inexpensive for hosting. I've heard a lot of bloggers recommend Siteground for being reliable and reasonably priced. Plus, they have people available on chat to help with any issues. I notice a lot of "bigger" bloggers recommend Bluehost, but I've actually heard negative things about their reliability.
6. Download WordPress. You want a wordpress.org, not wordpress.com. WordPress.com is their free option, but you are not allowed to advertise on a wordpress.com site, so if you're planning to monetize, make sure you download from the .org version.
7. Choose your theme. This is where you'll start to play around with your new blog. There a many free themes available, as well as paid ones. WordPress is pretty user-friendly and you will just have to piddle around with things and see which themes and layouts fit your blog style. You'll want to create your own header at some point (probably sooner than later) but it's not necessarily eminent that you do this right away.
8. Create your social media accounts. Once you've selected your blog name and know you'll be happy with it, go ahead and create social media accounts for your blog. Even if you don't do a thing with them for now, go ahead and create them so you save your name. Many a blogger has lost out on their name because they waited until they were ready to get active. I have a facebook page, twitter, Pinterest, instagram and Google+. (Please do follow me if you're so inclined!) If you plan to do any videos, make sure you sign up for YouTube as well.
9. Write an "about" page. This is where you will introduce yourself to your readers, any credentials or experiences you have, what your blog is about and how it can help them.  It's a good idea to include a picture of yourself so it feels more personal. As you start writing blog post, you can link to a few of your best ones here. Also, invite readers to follow you on your social media channels.
Are you ready to get started? I hope this post has helped you start sharing your knowledge and your voice with the world! I hope to do another post soon about WordPress plugins and other programs I use. Meanwhile, you can take a look at my Blogger Resource page for some helpful links.
If you've been inspired to start your own blog, please feel free to leave your new web address in the comments so I can stop by!
Save
Save
Save