Tasty Tuesday: Italian Meatballs
Italian Meatball Recipe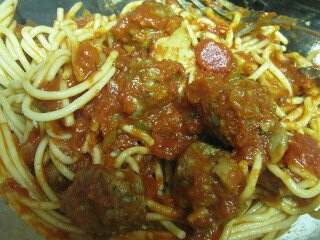 Today I thought I would share my recipe for Italian meatballs. These meatballs are fabulous, if I do say so myself. 🙂
Trim Healthy Mamas–You can simply omit the bread crumbs, as I've been doing, or sub with baking blend or almond flour.
     1 lb ground beef
     1 lb ground Italian sausage
     1 cup grated parmesan cheese
     1 cup bread crumbs
     1 TBSP basil
     1 TBSP oregano
     1 TBSP garlic powder
     In a large mixing bowl, mix together all the ingredients. It would be best to use your hands to get it all incorporated. Form the mixture into walnut sized balls on a greased baking tray and bake for about 15 minutes at 350 degrees.
     You can make a big batch, freeze them on a cookie sheet, then store the frozen meatballs in a ziploc bag for later use. Makes about 3 1/2 dozen.