Make it Monday: Homemade Playdough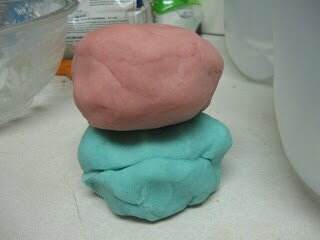 Here is a really easy recipe for homemade play dough. Why buy it when you can make it with ingredients you likely already have at home? No cooking required! Great for kids of all ages. You should supervise very young children, however.
     You will need:
     1 cup flour
     1/2 cup salt
     3/4-1 cup boiling water. You can just get it really hot in the microwave.
     1 TBSP cooking oil
     1 TBSP cream of tarter
     food coloring
     Mix all the ingredients together. Divide up for different colors, if you like. When it has cooled, add a drop or two of food coloring and knead it into the play dough. I made one recipe and got two colors out of it. You can, of course, double the recipe to make more, or leave it plain.
It is ready to play with right away. Put it in a sealed container for later use!