Tasty Tuesday: 1 Hour Breadsticks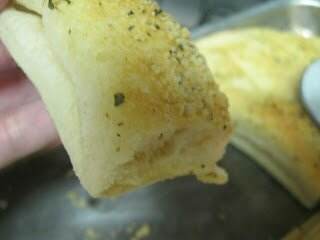 This is a wonderful recipe I found a while back. These homemade breadsticks are awesome, easy to make and they can be ready in less than an hour! This recipe works best with a Kitchenaid mixer.
You will need:
3/4 cup warm water
1/2 TBSP yeast
1 TBSP sugar
2 cups flour
1/4 tsp salt
2-3 TBSP melted butter
grated parmesan
First, add the yeast and sugar to the warm water and allow it to sit about 5 minutes. It should bubble up some, if the yeast is good.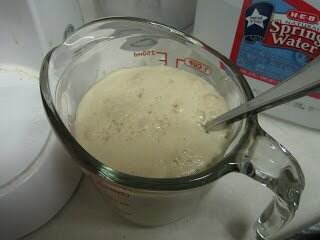 Add the yeast mixture to the mixing bowl and then add the flour and salt, 1/2 cup at a time. Mix on medium-high about 5 minutes. Allow dough to sit about 5 minutes. Use about a TBSP of the melted butter on a 9×12 baking sheet. Dump dough onto the buttered baking sheet and allow to rest another 2 minutes. It would probably be ok if the pan's dimensions are slightly more or less–this is just the size pan I used.

Preheat the oven to 170 degrees. Spread the dough out, like you would pizza dough.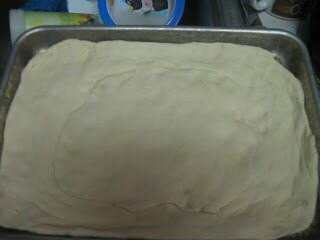 Spread the rest of the melted butter all over the dough. Use a basting brush for best results. Sprinkle desired amount of garlic powder, basil and oregano on the dough. Finally, sprinkle grated parmesan cheese. Cut the dough into the size breadsticks you want with a pizza cutter–probably about 1.5/4.5.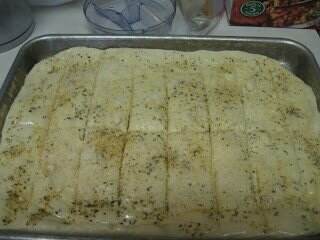 Bake at 175 degrees about 7-10 minutes, then increase the temperature to 350 degrees and bake another 10-12 minutes, until the breadsticks are slightly browned.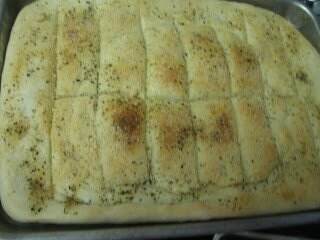 Recut the breadsticks with the pizza cutter, using a knife or kitchen scissors if necessary. This recipe should be enough for a family of four–more if each one eats less. But that might be asking too much. 😉