Make it Monday: Foam Bath Pictures
Making Bath Toys is Fun!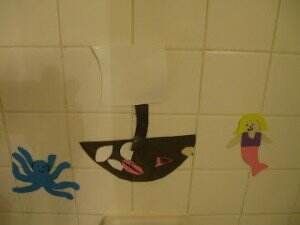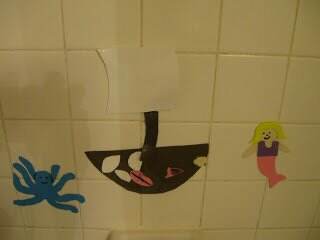 Making bath toys can be fun for you and the kids. Since foam sticks to tile when wet, foam pictures can be a great way to make bath time fun (in case it's not already fun!) The "extra" things on the pirate ship are a result of my daughter somehow getting ahold of super-glue…:-/
The foam things are really simple to make, but can be a little time consuming, depending on what you make. All you need is an assortment of foam sheets and scissors.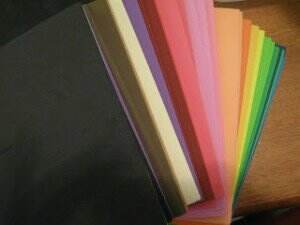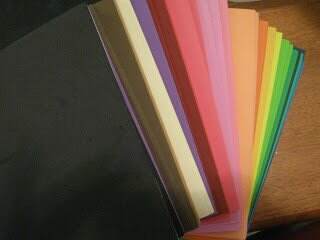 Then start cutting out the figures/shapes you want. In this case, a pirate ship and mermaid. You can also make funny faces or "odd" creatures. Trace them out first if you need to.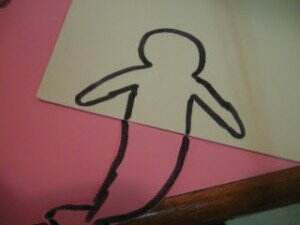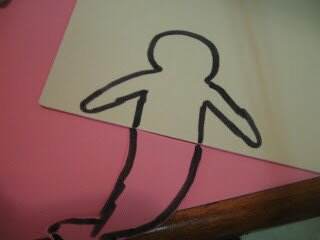 I put the sides with the tracing on them against the wall. You can do something as simple as shapes, which probably takes the least amount of time. You can do faces, monsters, animals, letters and numbers. I tried to do an ocean theme, as you can probably see. I wanted to make more, but it ended up taking longer than I thought at first.
     In the end, it can be a fun and creative bath toy. I know my daughter enjoyed it. Even while I was making them she was fascinated. It's a lot cheaper to make your own than get the pre cut shapes. I think my big stack of foam was about $5. And I didn't use nearly all of it. If you have older kids, you can let them make their own. It can be a great family project!