Tasty Tuesday: Ranch Parmesan Crusted Chicken
Ranch Baked Chicken Recipe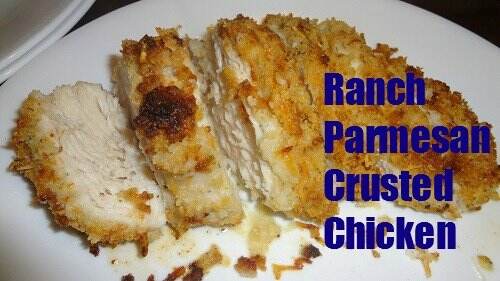 If you're looking for a delicious baked chicken breast recipe, I've got a great one here. It's very flavorful and relatively healthy since it is baked rather than fried. This has become a regular at our house since first trying it.
You can double the recipe, but if you do, you don't need to double the milk and egg, because there was a fair bit left over from this recipe.
Ingredients:
2 chicken breasts
3/4 cup  bread crumbs
1 TBSP powdered ranch mix
1 tsp McCormick perfect pinch garlic and herb seasoning

2 TBSP grated parmesan (green can)
1/4 cup shredded Italian cheese blend
1 egg
2 TBSP milk
2 TBSP melted butter
 In one bowl, beat together the egg and milk. In a second bowl mix the bread crumbs, cheese, ranch and garlic seasoning. Spray a cooking dish with cooking spray and preheat oven to 400 degrees.
Dip each chicken breast in the egg mixture, and then coat in the bread crumb mixture and place in the cooking dish. If you have extra bread crumb mixture, you can sprinkle extra on top.
Drizzle melted butter over the chicken breasts and bake at 400 degrees 30-35 minutes, until they are browned and crispy.

This dish goes great with mashed potatoes and green beans!