Fun Friday: Making Patriotic Soap
Fourth of July Craft Idea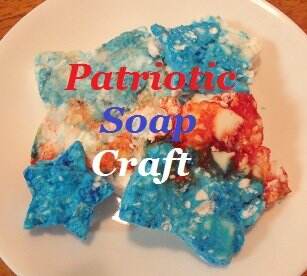 You may or may not have heard of the Ivory soap project that involves microwaving a bar of Ivory soap and making a "cloud." I've seen it passed around on multiple blogs and it seems to be pretty popular project. So I thought I'd try it with my kids, only instead of stopping at the cloud, we made little bars of soap. And since we're approaching July, I thought it would make a neat fourth of July craft idea.
I used the bar of Ivory soap I got in my TLC VoxBox from Influenster. It is appearantly very important to do this only with Ivory soap. I haven't experimented with other brands. I'm afraid to try. So, Ivory soap it is!
Cut up the bar of soap into about 4 parts in a large microwavable bowl. "Cook" the bar of soap in the microwave about one minute. The kids will have fun watching grow into a mountain/cloud, whatever.
Dump the soap cloud onto a clean surface. I used a cookie sheet in an attempt to keep it somewhat contained. Let the kids play with it, crumble it up and have fun. Some of the soap in the middle might be a little hot and gooey, as opposed to dry and flaky like the outside. Perhaps throwing it in the microwave a few more seconds would have helped with that, but I didn't try.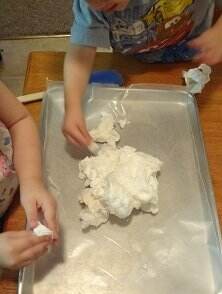 Now, you can use any colors you like, but since I was going for the patriotic theme, we used red and blue. Of course the soap was already white. Divide the soap flakes into however many colors you like, each in a bowl.
Put a few drops of food coloring in the soap flakes. I did 4-5 and got darker colors for 1/3 of a bar. Add just a dab of water to moisten. Start with 1/2 tsp. Seriously. It gets soupy pretty quick. Stir with a spoon or your hands.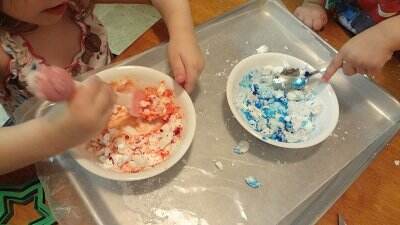 You can mold your own shapes freestyle or use cookie cutters like we did. We used star cookie cutters. Have fun making different color combos.
If you end up moistening a little too much (like we did), you may have to leave them in the cookie cutters to dry overnight.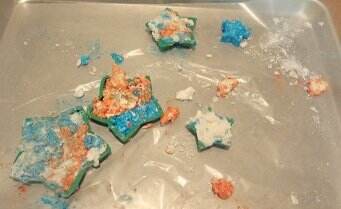 I know these aren't the prettiest, but it was a first try and I was working with a 2 and 4 year old! You could probably get the soap into a finer powder by using a blender or food processor.
Have you ever done the Ivory soap cloud project?