Southern Style Potato Salad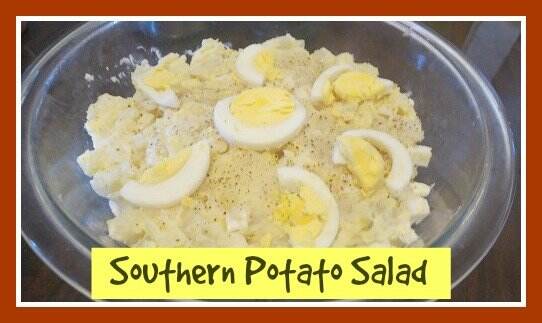 This is my favorite potato salad. I'm picky about potato salad. Very few restaurants (or grocery stores) have any I like. I really like potato salad, but it has to be just right. I experimented until I finally got just the right combo.

Now, I like more mayo than mustard in my potato salad. Some people are the opposite. If you like yours more mustard-y, this may not have enough for your taste. But you can always add more if you want. 😉 
To make my potato salad you will need:
3 cups diced potatoes
1 boiled egg, chopped up
1/4 cup mayonaise
1 TBSP finely diced onion
1 1/2 TBSP dill relish
1/2 tsp yellow mustard
1/4 tsp salt
1/8 tsp pepper
First you want to cut up 3 cups worth of potatoes to chunks somewhere between 1/2 inch and an inch.

Place the potatoes in a pot and boil. It should take about 20 minutes. You want the potatoes to be easily pierced with a fork, but not mushy.
Once the potatoes are cooked, drain them, allowing to sit just a few minutes to drip of excess water and cool just at tad. Transfer the potatoes to a mixing bowl and add all the other ingredients. Do this while the potatoes are still warm.

Mix the ingredients into the potatoes. Put the potato salad in the fridge to chill. Serve cold.