Make It Monday: Stovetop Naan Bread
Naan Bread Recipe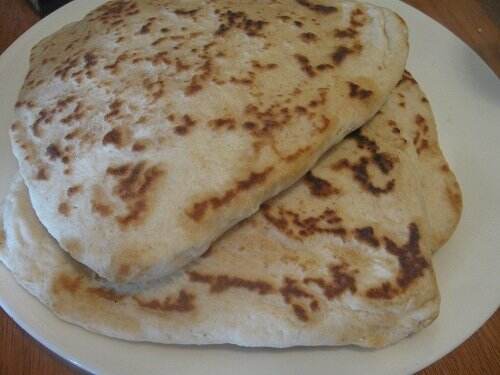 If you've never had naan bread, it is sort of like pita bread, but it doesn't have the pocket. I haven't had much luck making pita yet, but this stovetop method for making naan bread is fairly simple. I like to enjoy my naan bread with hummus and tabouleh, but you can serve it a variety of ways.
I find this recipe is best done with a cast iron skillet, since it can get really hot. I also have a metal spatula that is quite handy to use.
2 cups, plus 2 TBSP flour
1 TBSP baking powder
1 tsp salt
2 TBSP plain Greek yogurt
5 TBSP lukewarm water
2 TBSP olive oil
Mix the dry ingredients together. Then mix the yogurt with the water until it becomes sort of milky. Add the yogurt mixture to the flour mixture, followed by the olive oil.
You want the dough to be soft and not too sticky. Turn the dough onto a floured surface and knead about 5 minutes.
Roll the dough into a ball and place in an oiled bowl, covered, for about 30 minutes.
Next, divide the dough into 4 equal balls. This is a good time to turn on your skillet to medium high, so it can get really hot while you roll out the dough.
With a rolling pin, roll the balls into disks about 1/5 inch thick. Brush olive oil in the skillet.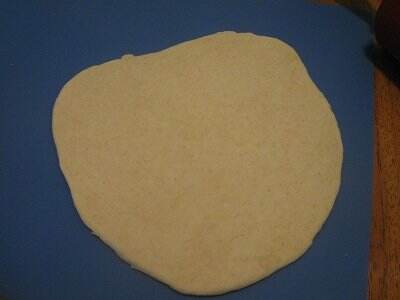 Pick up the disk and put it in the oiled skillet. Let it cook about a minute, then flip it and cook another minute. Remove the cooked naan to a plate and start on the next one. Repeat until all of the naan breads are cooked.
Serve it up however you like! You can even make wraps or mini pizzas.
Have you ever had naan bread? What is your favorite way to eat it?
Do you like naan bread? Now you can make your own on your stove! http://t.co/GbRdUJgmRc pic.twitter.com/gpl7bUVsqo

— Ordinary Housewife (@AOHousewife) May 27, 2014
This post has been linked up at one or more linkies. To see all the linkies I've participated in, check out my link party page!