Tasty Tuesday: Classic Cornbread Stuffing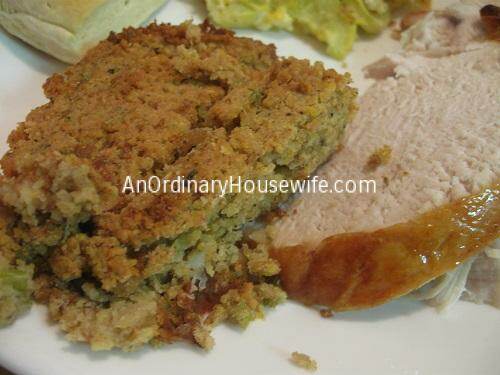 I didn't grow up with real homemade stuffing, but DH did. So in a "practice" Thanksgiving I recently made my first batch, and I must say it was pretty good! So if you're like me and grew up on Stove Top (nothing wrong with that, BTW!) you may want to give this recipe a try!
Ingredients:
5 cups day old homemade cornbread, crumbled
1/2 stick (1/4 cup) butter
2 stalks celery with tops and base removed and finely diced
1/4 cup chopped onion
1 egg
1 tsp sage
1 tsp thyme
2 Cups chicken broth
In a skillet, melt the butter and saute the celery and onions until cooked through and tender. Then in a large bowl, mix together the cornbread crumbs, celery/onion mix, egg sage and time. Add and mix in chicken broth.

Put cornbread mixture in a greased 8×8 baking dish and bake in an oven preheated to 375 degrees and bake about 30-35 minutes, until top is lightly browned.
This recipe can easily be doubled and made in a 9×13 pan and increase baking time to bout 45 minutes.