Tasty Tuesday: Easy Two-Toned Chocolate Cheesecake
Easy Two-Toned Chocolate Cheesecake Recipe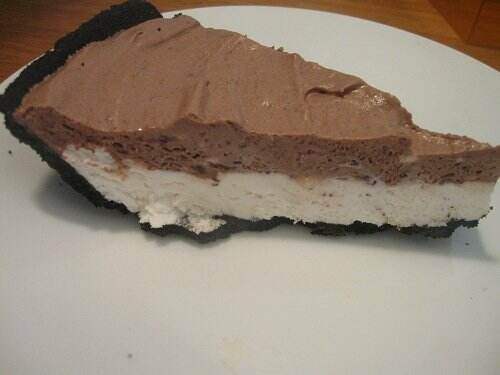 This title contains some of my favorite words when it comes to desserts. "Chocolate" and "easy" are both pretty high on the list! I made this two-toned cheesecake recipe using a combination of my easy cheesecake recipe and an easy chocolate mousse pie I've been making for years. It is fairly easy to make and quite addicting!
To make the two-toned chocolate cheesecake, you will need:
4 oz cream cheese, softened
1/2 cup powdered sugar
1/2 tsp vanilla extract
8 oz tub of whipped topping
2-4 oz baking chocolate or semi-sweet chocolate chips ( I use 2 oz Baker's brand baking chocolate)
2 TBSP milk
1 Oreo pie crust
In a small sauce pan, melt the baking chocolate and milk on medium low heat until melted. 2 oz for a lighter chocolate, 4 oz for a darker chocolate. Remove from heat once it is melted.
Meanwhile, beat together the cream cheese, powdered sugar and vanilla, just like in my easy cheesecake recipe. Mix in half the whipped topping, by hand. Stir the melted chocolate into the other half of the whipped topping until the chocolate is incorporated.
Spread the cream cheese/whipped topping mixture evenly in the Oreo pie crust. Next, spread the chocolate mixture on top of the cream cheese mixture.
Put the pie in the freezer and remove it 5-10 minutes before you are ready to serve it.
Enjoy with a cup of coffee or glass or milk.