Tasty Tuesday: Mini Strawberry Cheesecake Trifle
Easy Cheesecake Mini Trifle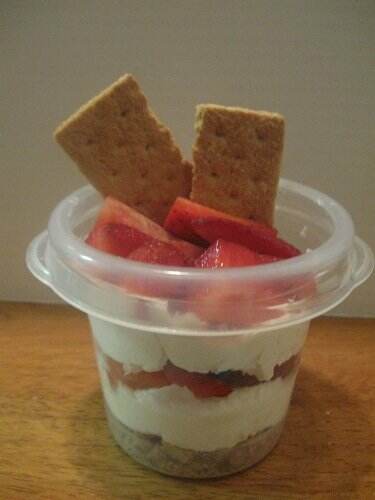 I love cheesecake. Especially strawberry cheesecake. And it doesn't even have to be "real" cheesecake. It can be super easy cheesecake, frozen cheesecake, or whatever.
I've been using this super easy cheesecake recipe for a while now. Of course, it's not a "proper" cheesecake. You don't bake it and it's really more akin to those instant cheesecakes you can get. But it is fluffy and delicious and you can use it for all sorts of things you may happen to want a cheesecake flavor for.
The basic recipe requires:
1 8 oz block cream cheese, softened
1 cup powdered sugar
1 tsp vanilla
1 8 oz tub whipped topping
First, beat together the cream cheese, powdered sugar and vanilla until well blended. Then, stir in by hand the whipped topping. If you beat the whipped topping into the mixture, it will end up too liquidy. Not sure why, but I speak from experience!
Once the whipped topping is thoroughly mixed in, put it into bowls, a graham cracker crust or whatever else you'd like to do with it.
To make the mini trifles pictured above, crumble 1 graham cracker sheet into a 1 cup container/cup/bowl. Add 1/4 cup cheesecake mix and top with 2 TBSP strawberries, or fruit of choice. Repeat. Garnish with more graham crackers if you like.
This recipe will make about 6 of the 1 cup mini trifles and they are easily stored in the freezer or refrigerator for later. They make a great little dessert without causing you to go overboard! This way you get a bit of the flavor of cheesecake without all the trouble.
How do you like your cheesecake?