Tasty Tuesday: Homemade Hibachi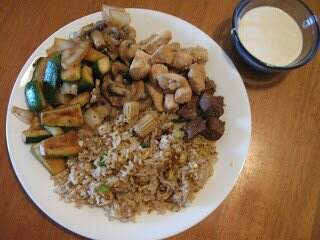 I loooove Japanese steakhouses. There is an awesome one in Tampa that we like to go to when we visit. We were less than impressed with the one here in town. And they are all expensive. The show is fun, and I can't replicate that, but I was really excited to find a recipe for yum-yum sauce. This is my favorite dipping sauce for these restaurants, but they don't all serve it. Anyway, here is how I make my "homemade Hibachi" meal.
     The night before, I make the yum-yum sauce. This is by no means a "diet-friendly" sauce, but it's one of the most important parts to me. And it's not like I do it all the time…So, mix together:
     1 teaspoon tomato paste (I don't always do this)
     1 tablespoon melted butter
     1/4 teaspoon garlic powder
     1/4 teaspoon paprika
     1 1/4 cups mayonnaise
     1 teaspoon white sugar
     1 pinch cayenne pepper
     1/4 cup water
     Put the sauce in a sealed container and refrigerate overnight. Since there are just two us, I half the recipe.
Now, for the actual food. First, I sauted (I only used cooking spray) a cut-up chicken breast about 10-15 minutes until seared. When they were fully cooked, I added about 1 1/2 TBSP of soy sauce and about 1/2 TBSp of honey, just enough to get it glazed. Add sesame seed if you like. I put the cooked chicken in a covered dish to keep warm while I cook the rest.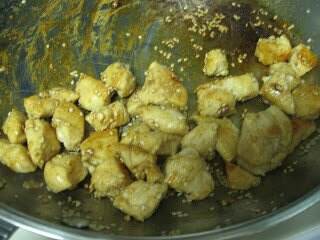 Next step is the zucchini. I only used one zucchini for the two of us. I cut them into chunks about 1/2″ by 1 1/2″. Same with the onions. Once they are cooked and easily pierced with a fork (my cooking utensil of choice!), add about 1/2 TBSP soy sauce. Then set aside as with the chicken.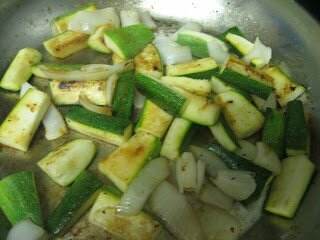 I do pretty much the same thing with the sliced mushrooms. I used an 8oz container, but next time will just use half if it is just the two of us! Drizzle about 1/2 TBSP soy sauce and 1/2 TBSP honey onto the mushrooms and coat and cook until lightly glazed.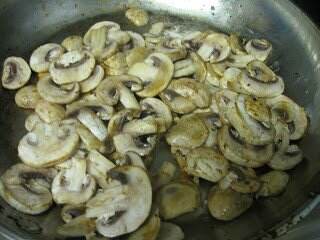 Finally, make the fried rice (unless you just want white or brown rice). Go here to see how.
Divide the food evenly among everyone. This amount is what I did. If you have more people, you will want to double the amounts! Next time I will cut back the mushrooms and rice though, because it was a little much! But it was delicious! And don't forget the yum-yum sauce for your chicken and veggies!