Tasty Tuesday: Basic Fried Rice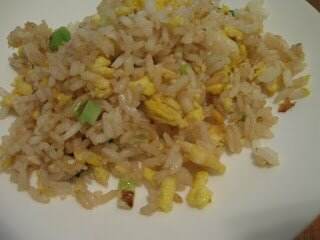 Okay, so this recipe is the result of my experiences of watching the hibachi guys and going to the Chinese buffet. And I've been doing it for a while now, and I think I've gotten it pretty good! (If I say so myself.)
This is a pretty simple recipe for homemade fried rice that you can adapt to make vegetable fried rice (by adding brocolli, snow peas, green beans, and/or carrots) or simply mix it (or just serve it) with pork, beef or chicken for a fabulous meal!
Yes, it does have a little butter in it, but I rather suspect it is still less than you will find at the Chinese restaurant. And of course you can double the recipe or adapt it any way you see fit.
For just the basic recipe, though, you will need:
1 cup cooked and cooled white rice (I have never tried it with brown)
1 egg
2 green onions, both green and white parts, diced up
1 TBSP butter
1 TBSP soy sauce
First, heat up your frying pan (or wok if you have one) on medium high heat with about 1/2 the butter (so 1/2 TBSP) and lightly coat the pan. Then add the egg and spread it around in one half of the pan. I use a fork to cook and just scramble it there in the pan, but if you're using a non-stick pan, you should scramble the egg first.
In the other half of the pan, add your chopped up green onions. Cook the egg and green onions about 2-3 minutes, until the egg is thouroughly cooked. You want to break it up real good too.

Once the egg is cooked and the onions slightly softened, mix them together and bring to the side. Add your rice and break it up. Add the rest of the butter to the rice.

As the butter melts, stir the rice around and once it is melted, incorprate the eggs and green onions. Continue stirring so the butter is evenly distributed. After about 3-4 minutes, the rice will start to look slightly darker.
At this point you add the TBSP of soy sauce, drizzling it all over the rice. Continue stirring it around about another 2 minutes.
And that's it! Ready to serve. The soy sauce contains sodium, so you don't really need to add salt, unless you really want to. You should taste it first, though!
This is really great served with orange chicken!

If you try it out, be sure to come back and let me know what you think!