Wellness Wednesday: Kettlebell
 As a busy mom trying to fit in a workout here and there, I need a workout that I can do at home, gives me a great workout, requires minimal equipment and can be done in about 3o minutes. That's why I love my 3-in-1 Kettlebell from Empower Fitness.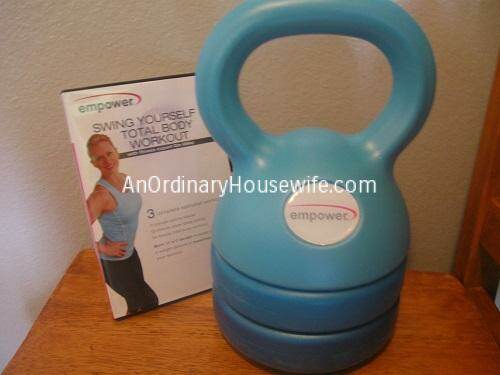 The 3-in-1 kettlebell consists of a basic 5-lb kettlebell with 2 add-on weights, allowing you to have 4 different weights. The set also comes with a DVD. I still have to use the 5-lb on all segments, but I love that when I am ready to increase the weight, I won't have to go buy a new kettlebell. It takes up less space than multiple kettlebells too!
Here's why I love this kettlebell set:
*Takes up very little space. You get a full body workout with one small piece of equipment (plus the instructional DVD).
*It is economical. This one time purchase will last you a long time! Kettlebells can run $15-30 apiece. This one is $40 and can be 4 different weights (plus DVD!). No need to buy more kettlebells when it's time to move up. Unless, of course, you work up past 12 lbs.
*It can be done in 30 minutes! I do the warm up, then one of the three main workouts and the cool down. It takes roughly 30 minutes altogether.
*Kettlebells work all your muscle groups and burn lots of calories!
 I try to do the kettlebell 3 times a week, which allows me to do each workout once a week. I am always sweating when I'm done! But I haven't really been achy afterwards. Except the workout that focuses on the lower body. That one kills me! 
Empower Fitness has a lot of great fitness products besides the kettlebell. They have hoops, weights, medicine balls and more!
 Connect with Empower Fitness!
website * facebook * twitter * pinterest
I received one or more of the products mentioned above for free for evaluation purposes. However, all opinions expressed are still 100% my own. I am disclosing this in accordance with the Federal Trade Commissions 16, CFR part 255 Guides Concerning the Use of Endorsements and Testimonials in Advertising. Please see my full disclosure policy HERE.