Festive Friday: Chocolate Peanut Butter Hearts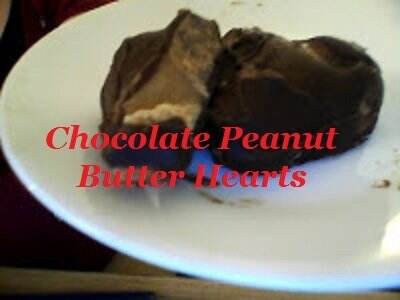 In light of Valentine's Day approaching, here is a really awesome recipe for Peanut Butter hearts, modified from a recipe I found at Brown Eyed Baker. If you're a fan of Reese's Peanut Butter Cups/hearts/trees, then you'll love these. The filling is actually quite easy to make. The dipping, depending on what shape you choose, might not be quite so easy. 
          1/4 cup butter (my hubby said he could really taste the butter, but I didn't think it stood out)
     Once these are all liquified and melted together, remove from heat and add 1 1/4 cups powdered sugar, 1/4 cup at a time. After adding about half the powdered sugar, I found it too stiff to mix with a spoon, so I dumped the ball of peanut butter mixture onto a sheet of wax paper and kneaded the rest of the powdered sugar in. It was pretty hot, so I had to wait for it to get to where I could touch it (but it was still pretty warm). At one point I started using the wax paper to knead it, but do whatever works for you!
     I actually put the dough in the refrigerator overnight, though you don't necessarily have to do this. The next day I formed the dough into heart shapes. The mixture will be a little crumbly, but will still mold together by working it with your hands. I got about 12 hearts of of the mixture, but they were a pretty good size. But that cookie sheet in the pic below is a half-size sheet, so the hearts weren't that big!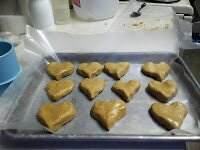 I put the shaped hearts in the freezer for an hour or so. Instead of the chocolate chips the original recipe calls for, I used two of the really big Hershey bars. I melted them in in the microwave, starting at about 30 seconds, and then going 10 seconds at a time until it was the right consistency for dipping. I also added a teaspoon or so of vegetable shortening.  
     I dipped the bottoms of the hearts in the chocolate and placed them on the wax paper. Then I spooned melted chocolate on top of the hearts and tried to spread it evenly over the rest of the heart. They are a little sloppy, since it was my first attempt at this, but they taste so good I felt like I had to share. 🙂
     You can, of course, change the shapes to do Christmas trees, easter eggs or pumpkins. You can also use muffin tins to make great, big homemade peanut butter cups! Or use a mini pan if you have one. If you make it, be sure to come tell me how you like it!
For an even easier recipe, check out these peanut butter acorns and just change the shapes to hearts and dip in chocolate!