Cuban Style Shredded Pork with Black Beans and Yellow Rice
Instant Pot Cuban Pork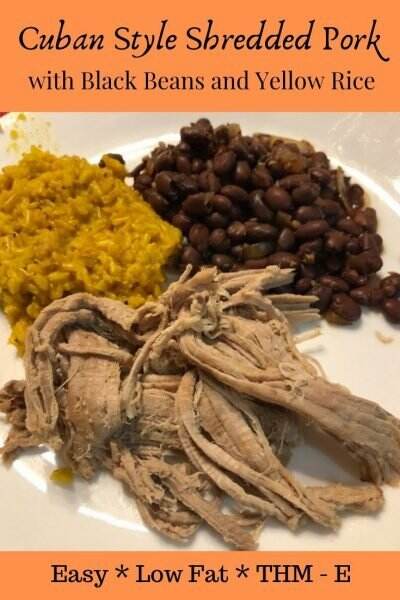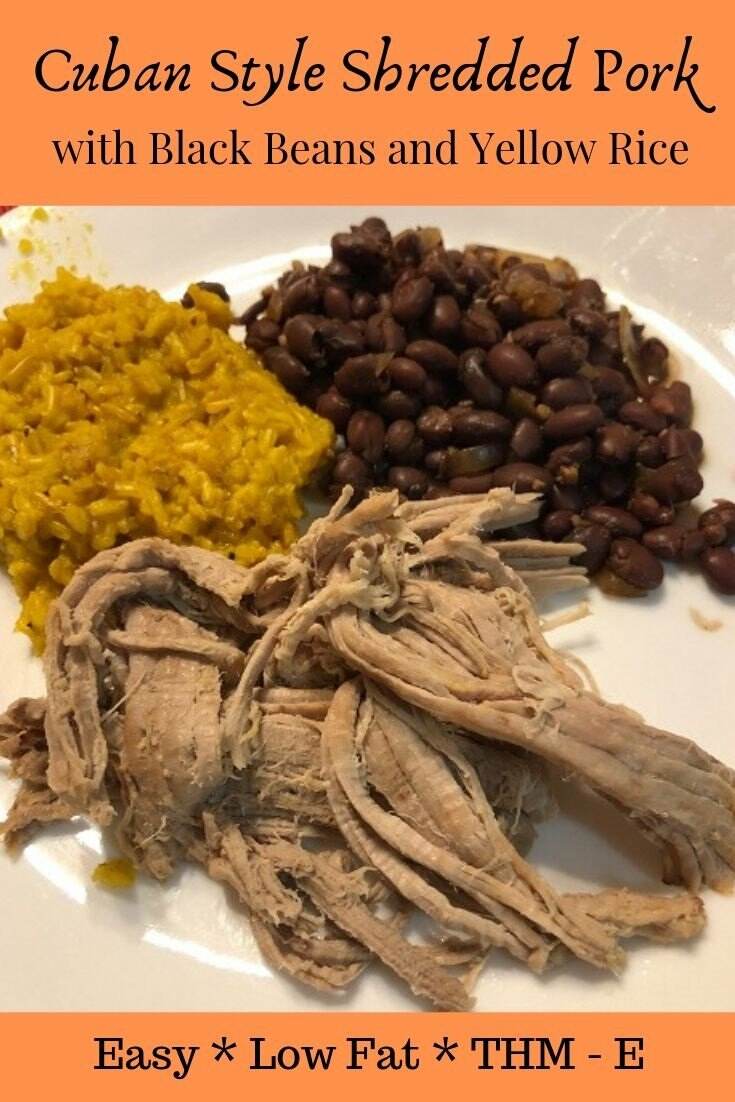 Repin this recipe for future reference!
My husband is from Tampa and he's a fan of Cuban food. In particular the roasted pork with black beans and yellow rice. I really wanted to come up with a way for him to get the meal he wanted without derailing myself. And the shredded pork is like "stupid easy" to make and the beans and rice really aren't that difficult either.
*Affiliate links are included in this post. Please see full disclosure policy here.
If you have an Instant Pot, you can have this meal done in about an hour. If you don't have an Instant Pot, you should! It's such a time saver! But seriously. This could also be done in a slow cooker, but it will be more like 8 hours than one.
This is an E meal on Trim Healthy Mama, which means lean protein. So you really need to use a pork tenderloin here, unless you want a crossover. The pork alone is a Fuel Pull, but it goes really well with the beans and rice. Don't know what E meals and crossovers are? Read this intro to Trim Healthy Mama!
Shredded Pork
2.5-3lb pork tenderloin
16 oz jar Marzetti pepperocini's
1/2 medium onion or 1 small, cut into large pieces
1 tsp salt
Place the pork tenderloin in the instant pot, dump in the pepperocinis (juice included), onion chunks and salt. Select "meat" setting and set at 40 minutes. Yeah, that's it. So easy. Shred the pork when it's done cooking and the pressure releases.
Sometimes I put some on a baking sheet and broil it for 5 minutes if I want to give it a little crisp. It's so full of moisture this should not dry it out. But this step is completely optional!
While your pork is cooking, go ahead and make the black beans and yellow rice.
Cuban Black Beans
2 cans black beans, drained and rinsed
1/2 cup finely chopped onion
1 1/2 tsp paprika
1 1/2 tsp cumin
1 TBSP oregano
1 TBSP dried, minced garlic, or 1 tsp garlic powder
1/4 cup balsamic vinegar
2 cups chicken broth
1 tsp salt
In a 2 quart pot, add the beans, broth, onion, vinegar and seasonings. Give a light stir and cook on  medium at least 30 minutes, but preferably closer to an hour. After the first 30 minutes, lower the heat to low until ready to serve. Don't let the liquid cook out.
Yellow Rice
1 1/2 cups brown rice
3 1/2-4 cups chicken broth
1/4 cup dried minced onion
1 tsp tumeric
1 tsp garlic powder
1 tsp salt
1 tsp pepper
I really like to use a rice cooker for this, but if you don't have one, just follow the directions on your rice package. Dump all the ingredients into your rice cooker (or pot) and turn it on, or cook on the stove top according to the instructions.
And that's it. My husband loves this meal. And I love that it's so easy to prepare!
And if you have leftover pork, it's fantastic for Cuban sandwiches!