Cucumber Sandwich Recipe (THM S)
An afternoon tea party is not complete without cucumber sandwiches. The traditional way to make them is just cream cheese and cucumbers but it may be a little boring, so I like mine mixed together with a bit more flavor!
Cucumber sandwiches are an afternoon tea staple and can also be served as finger food appetizers or as part of a light meal. If you enjoy the combination of flavors that come from cucumbers, cream cheese and dill – you should definitely try this sandwich!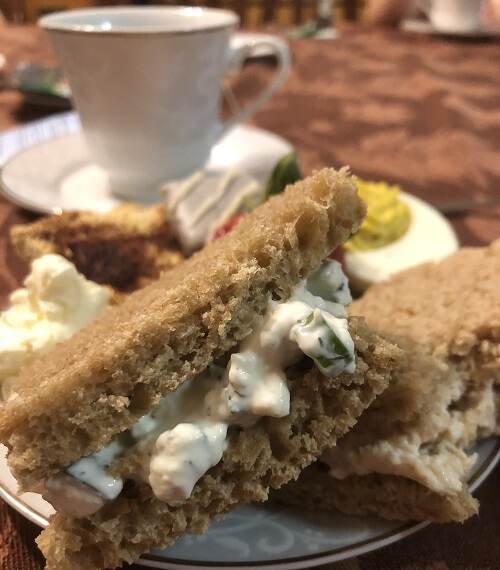 *Affiliate links may be included in this post. As an Amazon Associate, I earn from qualifying purchases. Please see full disclosure policy here.
To keep this an S, you'll need to use low-carb bread. You can make it an on-plan crossover by using sprouted or sourdough bread.
If you are not following Trim Healthy Mama and are just looking for a good cucumber sandwich recipe, you can simply use whole wheat or white bread. 
Cucumber Sandwich Recipe
4 oz cream cheese (I use Philedelphia 1/3 fat)
3 TBSP mayonaise
1 green onion (green part only) diced fine
1/4 tsp garlic powder
1/4 tsp dill weed
2 small cucumbers, or approximately 1 cup, chopped
Low carb or regular bread
In a medium bowl, mix together the cream cheese, mayo, garlic powder, dill weed and green onion until well combined. Then add the cucumber. I cut my cucumber into round slices, then cut the rounds into quarters.
2 smallish cucumbers (like the ones that come in a bag) are just about perfect for this. Some people prefer English cucumbers for this. Whichever variety you use, you're looking for about a cup's worth when chopped up.
Spread the cucumber mixture on the bread of your choice. If you're going for an S, you can choose a S or Fuel Pull bread, such as the Wonderful White Blender Bread from Trim Healthy Table, or Nuke Queen's Awesome Bread.
If you feel like splurging on a crossover, this is really good on sprouted or sourdough bread. Cut into small triangles or squares. You can also cut off the crusts if you like.
If you want to get really fancy, you can use a biscuit cutter or a decorative cookie cutter to cut the sandwiches into rounds or cute shapes.
You can make the filling a day or two ahead of time, but it's best to wait until the day of to make the actual sandwiches.
This cucumber sandwich recipe is part of my THM friendly Tea Party Menu!