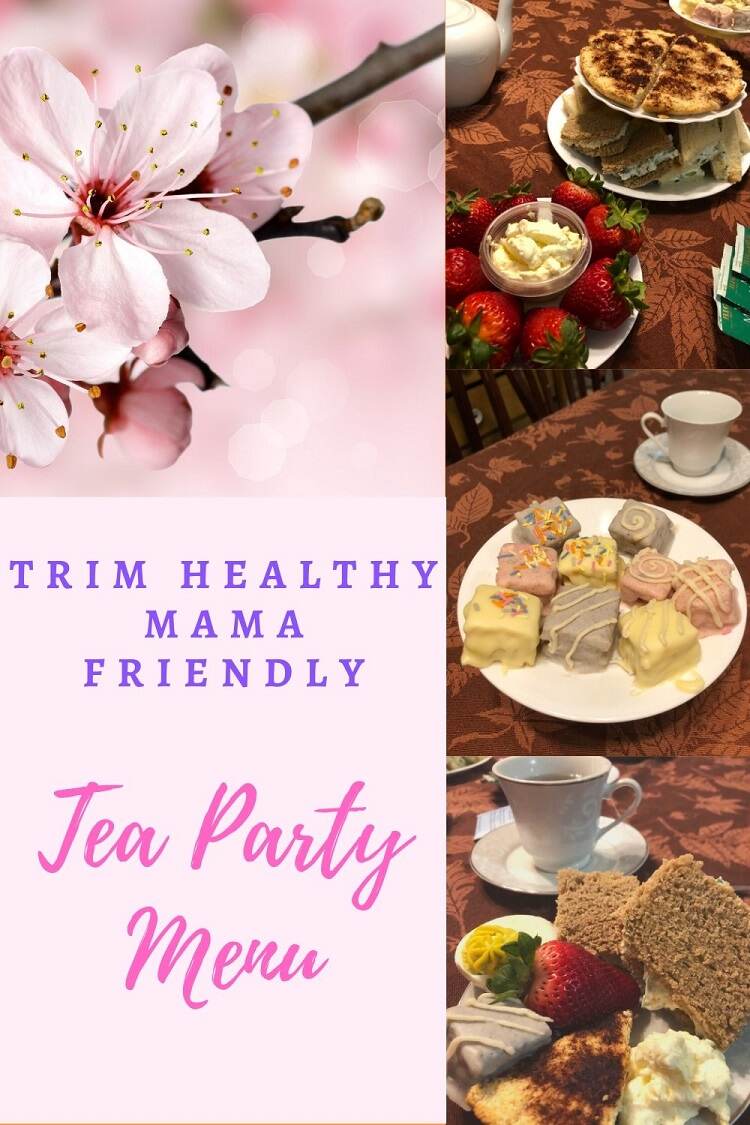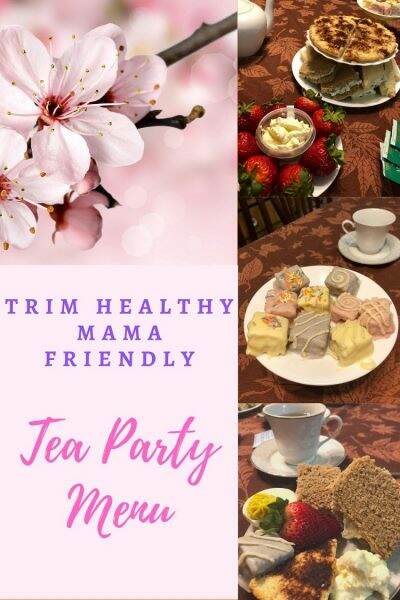 Mother's Day is around the corner and it's a fabulous occasion for a tea party. But if you're following Trim Healthy Mama, you may be worried about choosing between going off plan, or giving up your favorite foods. So I made a tea party menu with completely on plan foods!
*Affiliate links may be included in this post. As an Amazon Associate, I earn from qualifying purchases. Please see full disclosure policy here.
This menu was made specifically with people following the Trim Healthy Mama plan in mind, but the recipes will work for many eating styles. To learn more about the plan check out this brief intro.
Some of the tea party favorites, like cucumber sandwiches, are pretty easy to adapt on plan. Other things, like desserts, will require a little more effort. Also, some of these are definitely "heavy" S, so this menu is more of a special occasion thing than a regular thing.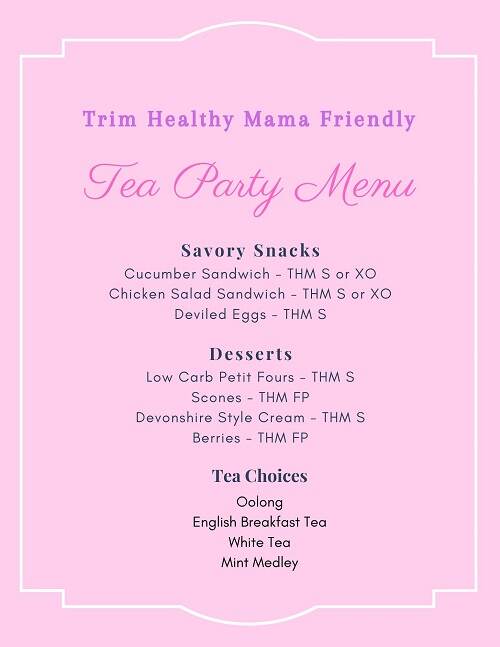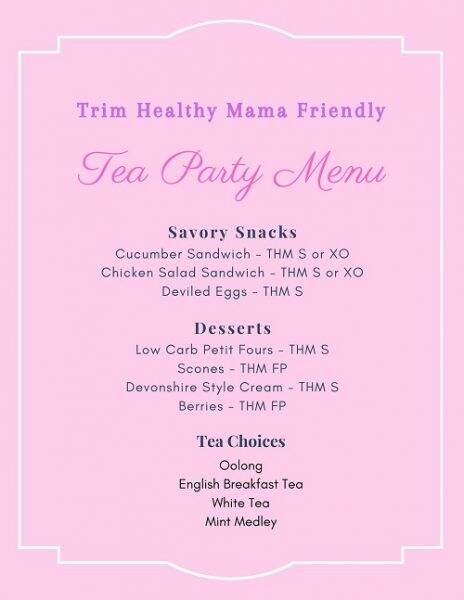 Cucumber Sandwich (recipe below)
Chicken Salad Sandwich
Deviled Eggs
Low Carb Petit Fours (find my recipe here)
Fuel Pull Scones from Nature Amy (find recipe here) Just a note, I quadrupled this recipe, omitted the blueberries, sprinkled Gentle Sweet and cinnomon on top and baked in a buttered 8 inch cast iron pan.
Strawberries with Devonshire Style Cream (recipe for cream below)
Assorted Teas. You can't have a tea party without tea! For a party, it's always fun to have an assortment. I really like the Tazo brand and they have a great tea variety pack with 10 different flavors.
A less expensive option is the Taylor's Classic Tea Variety Box and it comes in a box where the teas are nicely presented. But of course you can use any tea you want.
What's a tea party without cucumber sandwiches? I personally like a little more flavor than just cream cheese and cucumber, and I like it mixed together rather than slices of cucumber on top. It may not be the most "traditional" but it sure is delicious!
To keep this an S, you'll need to use a low carb bread. You can make it an on plan crossover by using sprouted or sourdough bread.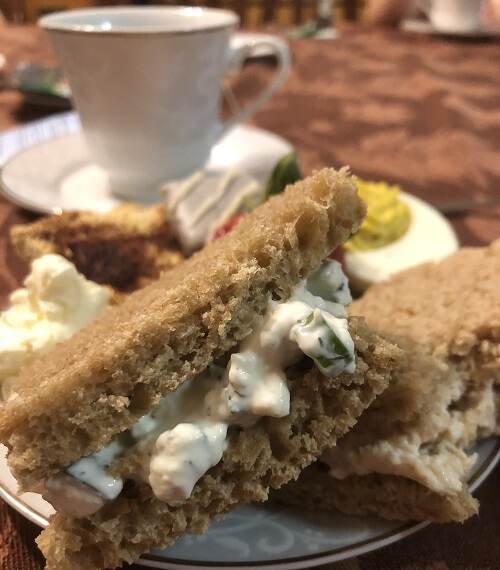 Cucumber Sandwich Recipe (THM S)
4 oz cream cheese (I use Philedelphia 1/3 fat)
3 TBSP mayonaise
1 green onion (green part only) diced fine
1/4 tsp garlic powder
1/4 tsp dill weed
2 small cucumbers, or approximately 1 cup, chopped
Low carb or regular bread
Mix together the cream cheese, mayo, garlic powder, dill weed and green onion until well combined. Then add the cucumber. I cut my cucumber into round slices, then cut the rounds into quarters.
2 smallish cucumbers (like the ones that come in a bag) are just about perfect for this. You can also use a medium cucumber. You're looking for about a cup's worth when chopped up.
Spread the cucumber mixture on the bread of your choice. If you're going for an S, you can choose a S or Fuel Pull bread, such as the Wonderful White Blender Bread from Trim Healthy Table, or Nuke Queen's Awesome Bread. If you feel like splurging on a crossover, this is really good on sprouted or sourdough bread. Cut into small triangles or squares.
Another staple of afternoon tea is Devonshire cream, or clotted cream. Since real clotted cream is difficult to find in these parts, this Devonshire cream copycat will have to do.
This cream is rich, thick and a little tangy with just a touch of sweetness. It goes well with both the scones and the strawberries we had at our table.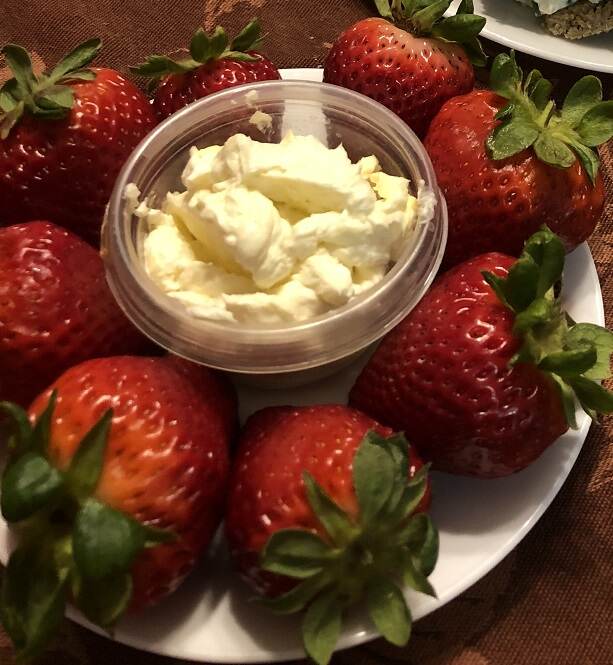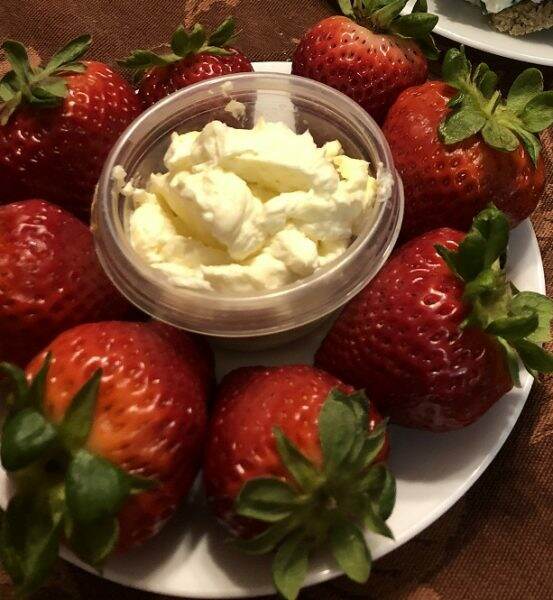 Devonshire Style Cream (THM S)
4 oz cream cheese
1/4 cup salted butter (I use Kerrygold for this)
1/4 cup sour cream
2 tsp THM Gentle Sweet (or my homemade blend)
Beat cream cheese and butter in a mixer until fluffy. Add sour cream and beat again until smooth.
Serve at room temperature with scones, bread, biscuits and/or berries.
I wasn't patient enough and have not tried it, but apparently you can make your own clotted cream at home with relative ease. But this was quicker to put together.
If you don't have a tea set, this 22 piece tea set seems to offer the most "bang for your buck" on Amazon. But a cheaper option would probably be if you could find a set in a thrift store or at a yard sale.
If you're having a larger group or a party for kids, you could always use a disposable tea set. But this isn't quite as "fancy" and you'd still need to have a teapot.
Here are some food products you can purchase for an on plan tea party.
Polaner All Fruit (1tsp in S, 1 TBSP in E)
HighKey Snacks Chocolate Brownie Bites (S)
Just Made Keto Vanilla Frosting (S)
Unique Sprouted Pretzel Shells (E)
Have any other ideas for on plan tea party foods? Let me know in the comments!