Gluten Free Chicken Gumbo
There are a couple of affiliate links in this post, added for your convenience. Your cost will not be affected in any way.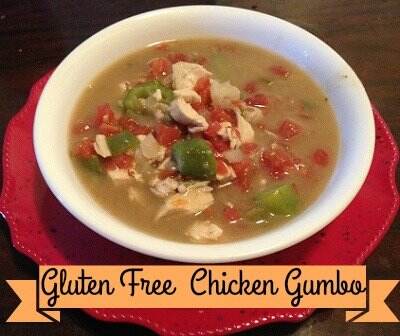 Repin this recipe for later!
I once heard someone following Trim Healthy Mama asked if there were an on plan version of gumbo. I'm not sure what makes regular gumbo off-plan (maybe the flour?) but I've come up with a version that is on plan and loaded with veggies. So it's a one dish E meal. Of course, you can have some plan approved E bread along with it if you want.
I sort of got the idea for the cauliflower/okra base from the Zuppa Toscana recipe from the Trim Healthy Mama Cookbook, but the soups are otherwise quite different. The Zuppa Toscana has cream and is an S and the gumbo has tomatoes and is an E. 
This made quite a lot for us. The following recipe will make about ten 1 cup servings and if you serve it over 1/4 cup cooked brown rice, it should be quite filling. I know it filled me up!
Gluten-Free Chicken Gumbo
1 lb cooked boneless, skinless chicken breast
1/2 onion, chopped
1 TBSP butter
1 quart chicken broth
1 cup water
1 16 oz bag cauliflower
1 cup diced okra
2 10 oz cans mild Rotel style tomatoes
4 tsp cajun/creole seasoning (Tony Chacheres is recommended by the sisters)
1/2 tsp gluomannan
Melt butter in a 2 or 3 quart saucepan, and add the onion and saute a couple minutes and add the cooked chicken and cook until the onions are tender. Remove the onion and chicken from the pot and put aside.
Put chicken broth, water, cauliflower and okra into the pot and boil on medium high until the cauliflower and okra are tender, about 10 minutes. Put all the cauliflower and about a cup of liquid into the blender and blend until smooth. 
Return the pureed cauliflower to the pot, add the Rotel tomatoes, the chicken and seasonings and stir. Sprinkle the glucomannan on the surface and stir in gently. Cover and simmer until ready to serve. The longer it sits, the better the flavor. 
Serve with 1/4-1/2 cup brown rice.