Healthier Victorian French Toast
There are some affiliate links in this post for your convenience. Your price is not impacted in any way and your purchase helps support this blog and giveaways for my readers!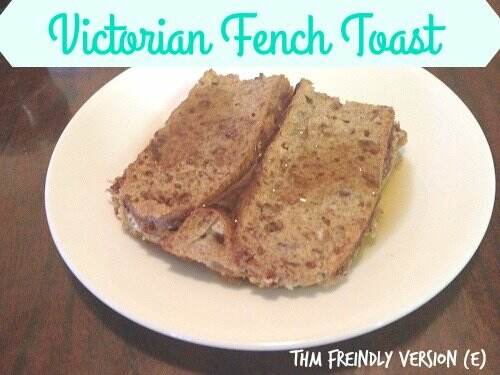 Repin this recipe for later!
I've been trying to tweak many of my favorite recipes to be more "Trim Healthy Mama" friendly. So my latest experiment was to make an on-plan version of Victorian French Toast. And since I have yet to find an "S" bread I really like, I decided this one needed to be an "E."
I think my Trim Healthy friends are going to appreciate this one because it's easy, tasty and is prepared the night before, so all you have to do is stick it in the oven the next morning! Serve it up by itself or have it with some fruit and sugar free chocolate milk.
You will need on plan bread, meaning either sprouted or sourdough bread. The cheapest route would be to make your own sourdough. Which means you're looking at a week to make this, unless you already have some made. I used Gwen's Easy Bread recipe for mine. This only uses wheat flour, yeast and water, so no special ingredients. The easiest route is to purchase sprouted grain bread. But it's also the most expensive. I prefer Angelic brand to Ezekiel, but that's me. You can also make your own with sprouted flour, but that can be expensive too. It's cheaper to buy in store than online. 
Note: I'm giving the measurements for a full pan, even though I halved it for myself. You can eat up to 1/8 of the pan and be under 1 tsp of butter.
On plan bread, enough to fill the pan, cut at least 1/2 inch thick
2 TBSP melted butter
3/4 cup sugar free brown sugar (recipe found at Gwen's Nest) I use half xylitol and half erythritol and maple extract as my flavoring
1 1/4 cup egg whites (carton is fine)
1 cup almond milk (see how to make your own almond milk here)
2 tsp vanilla
1 tsp cinnamon
2-3 tsp Gentle Sweet or Truvia, or 2-3 doonks pure stevia powder
First, melt the butter and mix in the brown "sugar" and sprinkle/spread it as evenly as possible in the pan. I halved the recipe so mine is in an 8×8 pan.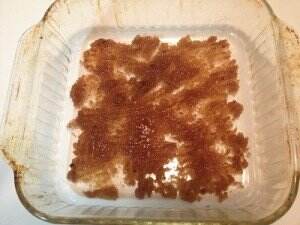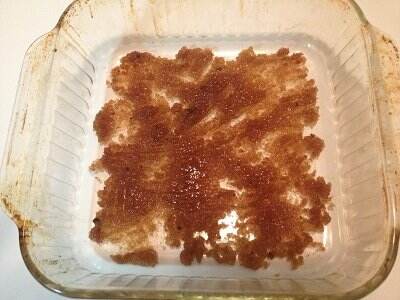 Lay the slices of bread on top, filling in any gaps. In a separate bowl, mix together the remaining ingredients and pour over the bread, making sure all the bread is moistened.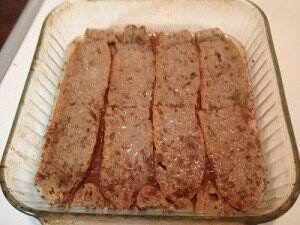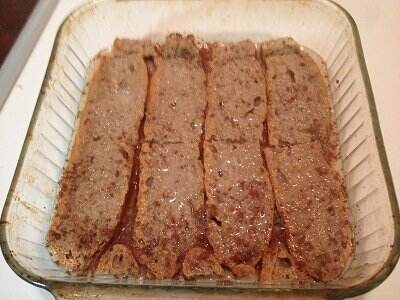 Cover and place in the fridge over night. Next morning, preheat the oven to 350 degrees and bake for 30 minutes.
Top with fruit, fat free, sugar free yogurt or sugar free maple syrup.