Tasty Tuesday: Victorian French Toast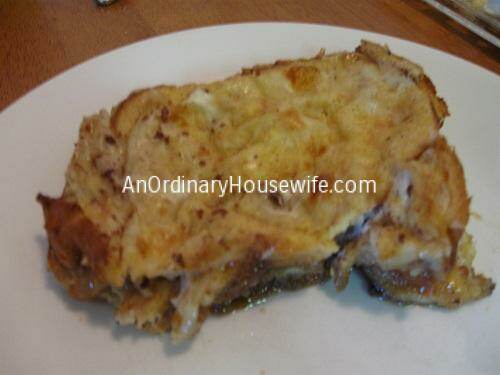 This recipe is what my hubby grew up eating every Christmas morning growing up. It's slightly easier than regular french toast, as you don't have to individually dip each slice of bread. And it's baked instead of cooked on the stove. And there's a nice little candied bottom. Also, you can make it ahead of time. What you need:
loaf of french bread, cut into slices about 1/2″ or so
 3/4 cup brown sugar
6 TBSP melted butter
 5 eggs
1 cup milk
1 tsp vanilla
1 tsp cinnamon
First spread melted butter on the bottom of a 9×13 baking dish. Sprinkle on the brown sugar as evenly as you can. Mix together eggs, milk, vanilla and cinnamon. Lay bread pieces across the pan, breaking pieces to fill in the gaps if necessary. Pour milk/egg mixture evenly over the bread.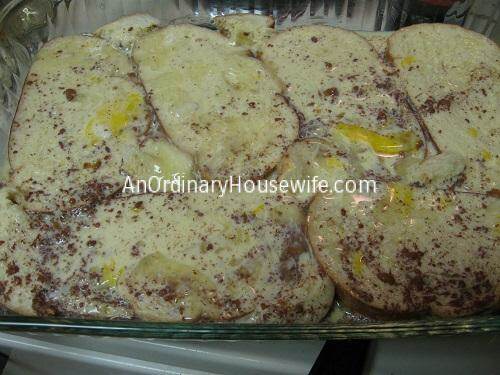 Use a fork to lift each piece of bread so some of the liquid can get under the bread as well. Sprinkle top with nuts, if desired. I don't. Bake at 350 degrees about 30 minutes, until the liquid/egg is cooked out. Top with powdered sugar and/or serve with maple syrup if you like. You can also assemble this the night before so all you have to do is put it in the oven the next morning.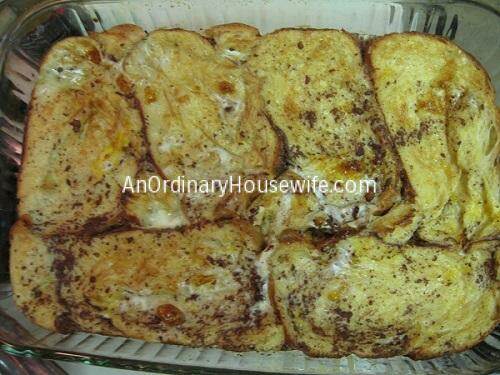 If you decide to try it, I'd love to know what you think!