Homemade Chocolate Chip Granola Bars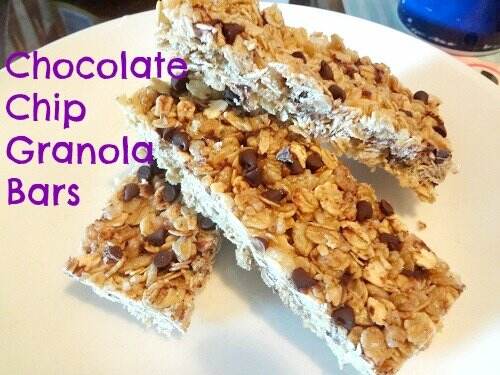 I have always loved the Quaker chewy chocolate chip granola bars, though in recent years I've tried to cut back on them. A lot. But if you've ever made your own homemade granola bars, you know they can taste amazing. Plus, it's a fun activity for the kids too!
My 2 oldest kids both love to help in the kitchen. My 5 year old, in particular, always begs to help when she sees I'm getting ready to make something. And when it's something the kids also like to eat, it doubles their excitement.
My daughter was really, really wanting to make some homemade chocolate chip granola bars today because she remembered how much she enjoyed it last time we made them–both the making and the eating! So, I decided to oblige her. Because I'm such a cool mom. 🙂
To make the chocolate chip granola bars you will need:
1 stick unsalted butter
1/2 cup honey
2/3 cup brown sugar
4 cups old fashioned oats
2 cups Rice Krispies cereal (generic is fine)
1 teaspoon vanilla extract
good pinch of salt
1/4 cup mini chocolate chips (plus a few to sprinkle on top)
In a saucepan on the stove, combine the butter, honey and sugar and stir until the sugar is dissolved. This was a good job for my daughter (under supervision) whom I can trust not to touch the stove or pot.
Meanwhile, mix together the oats and Rice Krispies. My 3 year old enjoyed dumping the ingredients into a large mixing bowl, then mixing them together. Do not add the chocolate chips at this time.
When the ingredients on the stove are melted together, add the vanilla and salt and stir. Add the whole mixture to the oats/rice mixture and mix thoroughly. Wait a couple minutes for the mixture to cool slightly, then add the chocolate chips. If you add them too soon, they will just melt into the mixture.
Pack the mixture into a quarter cookie sheet that has be greased with butter. You can use a piece of greased wax paper if you like. You might also like to add a sprinkling of chocolate chips to the surface and press them in. The better to pack the mixture, the more your bars will stay together.
Allow the pan to cool a couple hours, then cut into bars. You can put the pan into the freezer for a few minutes to speed up the process.
Have you ever made homemade chocolate chip granola bars?