Trim Healthy Mama Jambalaya (E)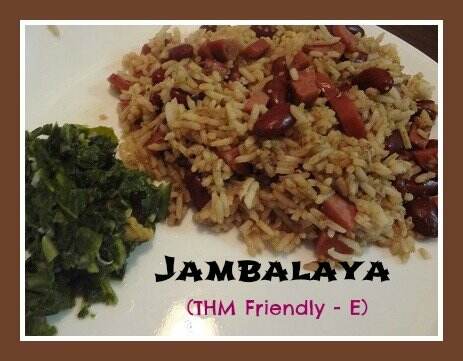 I'm not normally a fan of rice or beans, but I do like my jambalaya. And since I'm not a fan of seafood, jambalaya means rice, beans, sausage and chicken. But if you're trying to follow the Trim Healthy Mama plan, this can get kind of tricky, since jambalaya typically contains Andouille sausage and dark meat chicken and these meats contain more fat than allowed on an E meal.
But I figured there had to be a way to get my jambalaya fix and still keep it THM friendly. And I was right. It just took a little measuring and planning. But hey, now I know what I need for my trim healthy mama jambalaya. And I'm writing it down here so I know for later. 😉
This should make about 4 servings of slightly more than a cup of food. Collard or mustard greens are a great accompaniment to this dish to help fill you up. I got pretty full on this!

1 can red kidney beans
2 cups cooked brown rice (1 cup dry)

4 oz Turkey Sausage, chopped into very small pieces. It is 5-6 grams fat for a 2 oz serving and about half that goes into a serving. Butterball all natural smoked turkey sausage is a good option.

1 13 oz canned chicken breast. Canned is an easy option for this, but you can cook your own skinless breast if you want and use a cup and a half cooked boneless, skinless chicken breast

1/3 cup chopped onion
First, cook your rice. I use a rice cooker because when I try it on the stove it turns out gummy. Love the rice cooker! For best flavor, use chicken broth. You will be adding flavor later, so you can use water if you prefer.
Next, cook your sausage. It should already be cooked, but you want to get it heated and seared, then add the chicken and onion. I use a cast iron pan for this. Sprinkle about 2 tsp of cajun seasoning over your meat. More or less, depending how spicy you like it!
Remove the meat from the pan and put the rice in the pan. Add a little bit of water (maybe 1/4 cup or so) plus another 2-3 tsps cajun seasoning and stir around to mix with the pan juices and make "dirty rice."

Add the meat back into the pan with the rice and add the beans. Mix it all together and serve with veggies of your choice. Collard/mustard greens go well with this!
Remember, try to stick with a 1/4 of the recipe and supplement with greens or other veggies!