How to Make a Busy Necklace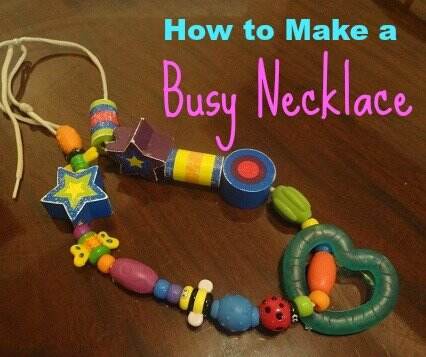 Have you ever heard of a busy necklace? I had not, until several months ago. Someone was selling them somewhere, I think. But I figured out they are super easy to make and babies love them!
A busy necklace basically serves the same function as a teething or nursing necklace. It's something for baby to grab and chew on that is okay for them to have in their mouth. A busy necklace is just more colorful and entertaining. I should note, however, that this still is not a toy meant to be played with unsupervised, due to potential choking/strangling hazards. It is meant to be worn by an adult who is holding the baby.
My busy necklace has become part of my "Mom" ensemble, which actually just consists of jeans, a nursing-friendly shirt and maybe some comfortable shoes. But I wear the busy necklace pretty much anytime I go out now, except the very rare times the baby is not with me.
I've been wearing this since Little K was about 4 months old–she is now almost 10 months. Even when she was really young, it was something for her to hold onto when she was in my Boba wrap. As she started teething, it was something she loved to chew on. And she's still in that stage. It helps that it is colorful–babies love that!
I can't tell you how many comments I've gotten from others on this necklace. Mostly along the lines of "I like your necklace" or "What a clever idea!" Most of them understand the reason for the necklace without being told, since the baby is with me. I've even had someone ask me where I got it cause she wanted one for her sister-in-law.
Now that you know why you should have one of these if you have a young baby, let me tell you what you need to make one. It is really absurdly easy. I am including Amazon links to the needed products for your convenience. These are affiliate links, but do not affect your price at all. You can probably buy some or all of these products at Walmart or Target as well.
Optional, Melissa and Doug lacing set. Either the Deluxe Lacing Beads or the Primary Lacing Beads would be good choices. I used the Deluxe ones and I have to say Little K really loves the star and block beads.
Another option is to get a second Bug a Loop instead of the wooden beads and it would be cheaper overall, unless you plan to make multiple necklaces. You will only use a few of the wooden beads on a necklace. I only used 5 and let my older kids play with the others.
Ring Teether. I bought this Bright Starts teether set of 3.
Shoelace. If you can find another secure, strong thing to use for a necklace, that would probably work as well. A shoelace is probably the cheapest route to go.
Once you have all your materials, cut the string of the Bug a loop teether. You will then thread the Nuby beads on the shoelace, mixed in with the wooden beads. Add the ring teether and tie the ends of the necklace together.
Yes, it really is that easy. And now it's ready for your baby to enjoy!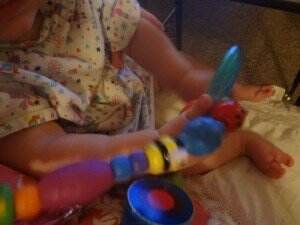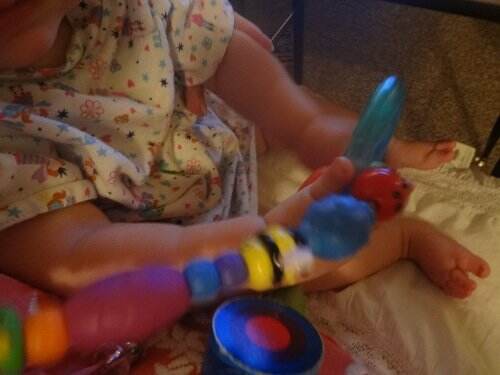 This post has been linked up at one or more linkies. To see all the linkies I've participated in, check out my link party page!