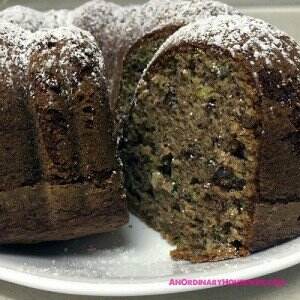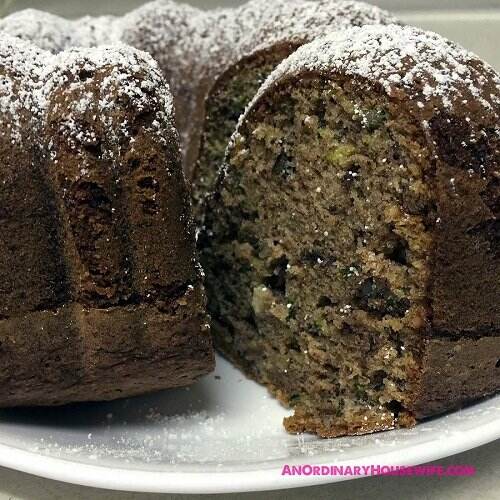 I used to think zucchini bread was a savory bread. But it's not. It's sweet. And I discovered that I really like it. I actually prefer this to banana bread and I think it would be perfect with a layer of cream cheese icing (because I'd eat that on everything if I could), though it's delicious all on its own!

I usually use loaf pans but DH made this latest batch and used a bundt pan. I said this made it more of a cake and he said it was the way he had it growning up and it was called zuchini bread. Since this is the recipe he grew up with, I will go with that. 🙂
What you need:
3 eggs
1 cup salad oil
2 cups sugar
3 tsp cinnamon
1 tsp salt
1 tsp baking soda
1/4 tsp baking powder
2 tsp vanilla
1.5 cups pecans finely & not so finely chopped
2 cups grated raw zucchini (unpeeled)
3 cups unsifted flour
What to do:
In large bowl, beat eggs until foamy. Gradually beat in oil and sugar. Add grated zucchini, cinnamon, salt, baking soda and baking powder, mixing well. Gradually blend in flour, mixing well after each addition. Fold in chopped nuts and vanilla. Pour into greased pans (use 1 large ring pan or (3) 7.5×3.5in pans). Bake about one hour at 350 degrees until cake tests done and starts to leave sides of pan. Cool in pan for 10 minutes before turning over on plate. Dust with confectioner's sugar if desire or eat plain, delicious!
This is also a great, sturdy bread to give to friends and family and it keeps a few days. We have given loaves to people in the past. If it is a day or two old, you can put a little butter on the slices and toast them in the oven. We do this with banana bread too!