Make it Monday: Cream Cheese Frosting
Cream Cheese Frosting Recipe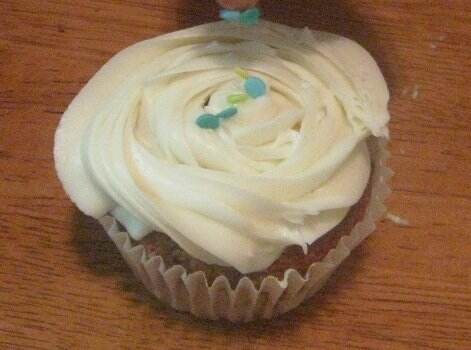 Cream cheese frosting is probably my favorite frosting. It is really almost a must for carrot cake and red velvet cake, but it's great on chocolate cake and yellow cake as well! There is just something about the flavor that is a little more than just sugar.
It's also not too hard to make. All you need is these ingredients:
1 (8 oz) package cream cheese, softened
1/4 cup softened butter
2 TBSP milk
1 tsp vanilla
4 cups powdered sugar
First, beat together the cream cheese, butter, milk and vanilla. I find my Kitchenaid mixer works great for this! Then, add the powdered sugar, one cup at a time.
If you are simply frosting a cake/cupcakes, sifting is not a necessity, but if you plan to use it for decorating, you probably should, or it might clog the tips. Though I should note it is a little trickier to get the right decorating consistency than regular icing.
And that's it. Ready to use! If you're not a fan of the cream cheese taste, this fluffy frosting recipe is great as well!
What is your favorite cake to have with cream cheese frosting?