Wellness Wednesday: The Importance of Water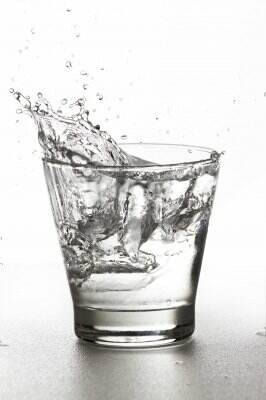 Image courtesy of suphakit73 / FreeDigitalPhotos.net
Do you drink enough water?
Water is one of the most underestimated tools for weight loss around.
     Most people don't drink enough water. I remember hearing somewhere that a good rule of thumb to know how much you should be drinking is to take your body weight, divide it in half, and drink that many ounces. Makes sense, right? More weight, more water?      I don't know how many times I've read on lists of weight loss tips to drink an 8 ounce glass of water right before a meal. Why? Well, then your stomach is half full of water. And thus, you'll eat less. Not to mention it'll help you stay hydrated. I find myself snacking less when I actually drink enough water. Not that I've been too consistent about that lately. Like I said.
     What are some other benefits of water? Well, sufficient water intake helps with:
     1. Metabolism (another reason it's a good weight loss tool!)
     2. Keeping your Ph levels balanced
     3. Decreases  chances of heart attack (and this can be counter-acted with non-water drinks–especially sugar laden ones!)
     4. Contributes to healthy, glowing skin
     5. More muscle elasticity (which helps your joints work better)
     6. Flushes out toxins (which are what make you sick!)
     7. Healthy kidney function. And believe me, if you get a UTI and it gets into your kidneys, it will make you sick! Drink water to help avoid this!
     8. Headaches. Dehydration can cause headaches. I guess that's why when I say my head hurts, my husband's response is "You need to drink more water." He's probably right.
     9. It restores energy.
     10. It help transport nutrients from one part of the body to another, and keeps your body functioning properly.
     11. Pregnancy. I can't tell you how many times I was told while I was pregnant to drink water, drink water, drink water! Same goes for breastfeeding. Anytime liquid goes out, it needs to come back in.
     So, this post has ended up being longer than I thought it would. I actually was just looking to make sure the things I thought about water were true, and ended up finding a whole slew of benefits I didn't even consider.
     So come on–drink to your health!