Tasty Tuesday: Chicken Tenders
Love this recipe for Chicken Tenders!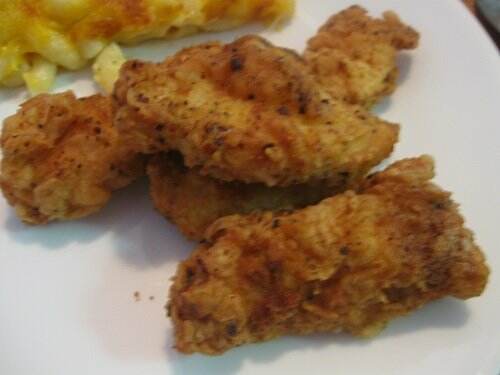 I love chicken tenders. One of my family's favorite meals for me to make is these chicken tenders, green beans and mac and cheese. Of course, anything deep-fried isn't super good for you, so I try not to make it too often. It's just good home food.
My chicken tender recipe isn't super-complicated, but it is a little time consuming. You probably want to give yourself an hour over all.
In one bowl, mix 1 cup flour and 1 TBSP Mrs. Dash seasoning (original). In another, beat 1 egg with 3-4 TBSP milk.
In a cast iron skillet, pour oil in the pan until it is about an inch deep. Let the oil heat up on medium high heat, a good 1o minutes. Meanwhile, while the oil is heating up, cut up 2 boneless skinless chicken breasts into nuggets/tenders.
 When the oil is ready, dip the chicken pieces, one at a time, into the egg mixture, followed by the flour mixture. Then place the floured chicken piece carefully into the oil. Fill the skillet with chicken pieces, but don't overlap them. 
Fry until golden brown, about 5 minutes each side. Remove the chicken pieces from the grease (I use a fork) and onto a plate lined with paper towels to drain off the excess grease. Repeat until all the chicken tenders are cooked and serve!
This recipe for fried chicken sandwiches is great too!