Tasty Tuesday: Carrot Cake
Carrot Cake Recipe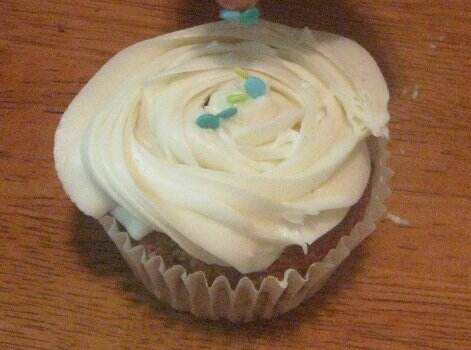 Have you ever had carrot cake? It's perfect with the cream cheese frosting recipe I posted yesterday. Before I tried it for the first time (several years ago) I thought carrot cake sounded gross. But it's really not.
I made my carrot cake a tinge healthier (though it still has regular sugar) by using apple sauce and chia gel instead of oil and eggs. The chia gives it a touch more fiber and you really can't tell the chia is in there, since carrot cake is somewhat fibrous anyway.
So, here is my recipe:
1 1/2 cups sugar
1 cup applesauce
3/4 cup chia gel
2 cups flour
2 tsp cinnamon
1 tsp baking soda
1 tsp vanilla
1/2 tsp salt
3 cups shredded carrots (you can use a food chopper/processor to make this easier)
Beat together sugar, chia gel, apple sauce and vanilla. In another bowl mix flour, cinnamon, baking soda and salt, then add to sugar mixture. Next, stir in the carrots. If you'd like to add nuts, you can do that at this time as well.
Put batter in 2 greased and floured 8 1/2 round pans, a 13×9 rectangle pan or 2 dozen cupcake liners in muffin tins. Bake a 350 degrees 30-35 minutes. The rectangle may take a little longer. The cake is ready when a toothpick inserted comes out clean.
Let cool completely and frost with cream cheese frosting. I made carrot cake cupcakes and they were really moist and delicious. I hope you love them as much as I do!