Make Your Own Marshmallow Peeps
How to Make Your Own Peeps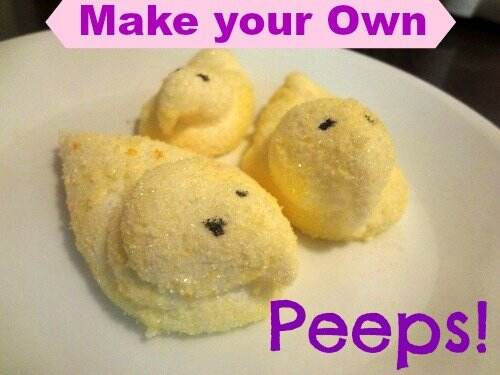 Ever since I made marshmallows for the first time a while back, I had it in my mind I would be making homemade peeps. Well, I finally got around to it and I have to say these taste way better than store bought peeps.
Yes, they are a little more complicated than regular marshmallows, but not a whole lot. Even better if you can get some help. I did it on my own, just to make sure it could be done.
The recipe starts off much the same as the marshmallow recipe. I just halved the recipe here and it still ended up making more peeps than we really need.
For the marshmallow, you need:
1 envelope unflavored gelatin
1/3 cup water
1/2 cup plus 2 TBSP sugar
1/3 cup light corn syrup
1/2 tsp vanilla
pinch of salt

In whatever bowl you will be mixing in (I recommend a Kitchenaid), pour in the water and sprinkle the gelatin on top. Allow it to sit while you complete the next step.
In a 1 quart saucepan over medium heat, stir together the sugar, salt and corn syrup. Cook about 5-7 minutes, stirring occasionally, until the sugar is dissolved. Pour the sugar mixture into the gelatin mixture, add the vanilla and beat on medium high, about 10 minutes. You want it to get light and fluffy, like the texture of marshmallow fluff.
While the marshmallow is mixing, line a large cookie sheet with wax paper. Prepare your sugar for dipping by placing 6 TBSP granulated sugar and 3-4 drops of yellow food coloring in a small airtight container and shaking vigorously to make yellow colored sugar.
Prepare a decorating bag (like you use for cake decorating) by folding the bag halfway down, coating the inside lightly with oil, followed by powdered sugar. If using a disposable bag, cut an opening in the tip about half an inch wide.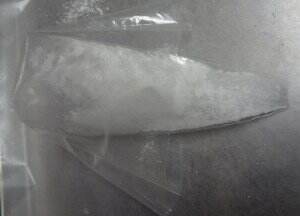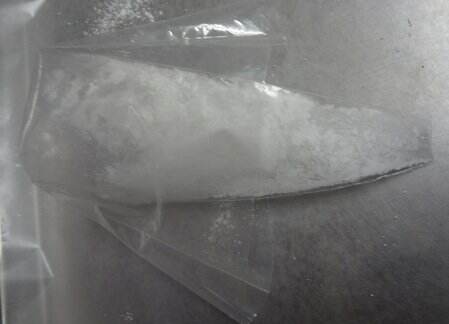 Fill the decorating bag with marshmallow fluff and pipe bodies onto the wax paper. The trick is to squeeze until you reach the volume you want, stop squeezing, then pull away, instead of dragging and pulling.

Starting at the opposite end from the point, do the same for the head.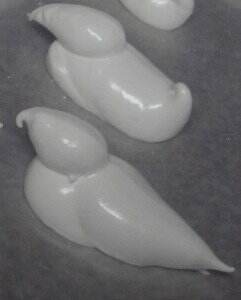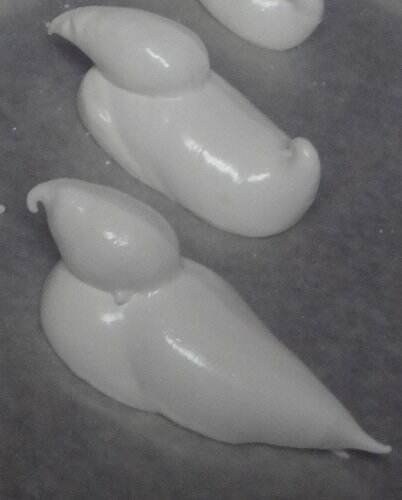 After about 3o minutes, very carefully pry the marshmallow chicks off the wax paper, gently roll in the yellow sugar mixture and replace on the wax paper. Using a toothpick, dip into black food coloring and make eyes for the chicks.
Allow to set another hour before serving. Store in an airtight container. They should keep for a few weeks!