Tasty Tuesday: Pesto Chicken Pasta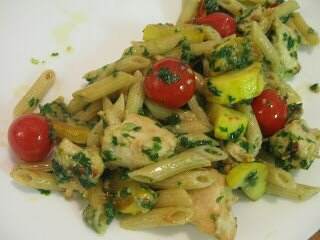 Tonight's dinner was something I adapted from a recipe I got for a magazine. It's the second time I've made it in the last two weeks and my hubby absolutely loves it. And since he went to the store the other day, he bought another bunch of parsley (which I only get if I'm planning a recipe with it), indicating he wanted this meal again. So I obliged. 🙂

4 oz Penne pasta (uncooked)
1 packed cup parsley
1 garlic clove, crushed
1/4 tsp lemon zest, or 1/8 tsp lemon juice
7 TBSP olive oil
1 boneless chicken breast, cubed
1 squash, cubed (feel free to use 2!)
1/2 cup cherry tomatoes
4 oz can mushrooms, drained
1/2 cup grated parmesan
First, make the pesto by combining the parsley, garlic, and lemon zest/juice in food chopper until finely ground. Add 6 TBSP olive oil and combine. Meanwhile, boil the water for the pasta and saute the cut up chicken breast in 1 TBSP olive oil in a large skillet, about 10-12 minutes, until cooked through and browned. Set aside. The pasta should be cooking by now.
Next, saute the squash until tender, adding the mushrooms and tomatoes near the end, about another 3 minutes. Return the chicken to the skillet. Once the pasta is cooked "al dente", drain it and add the pasta to the chicken and veggie mixture. Add the pesto and parmesan and mix thoroughly.
And that's it. It's hearty enough to be a meal by itself, but would also work well with a salad.